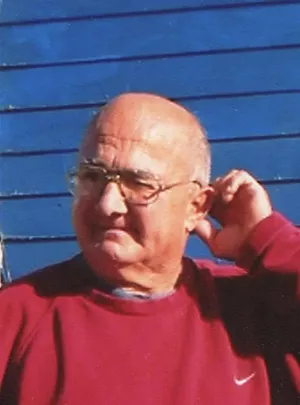 Joseph "Smiley" Therrien, age 73 years, an extremely hard working, happy individual and devoted father, grandfather, great grandfather, brother and father-in-law died early Monday afternoon, September 28, 2015, in the University of Vermont Medical Center with loving family at his side.
Born in Highgate, on, October 31, 1941, he was the son of the late Abraham and Marie Therrien. Smiley was an outgoing, funny always on the go kind of individual, loved to junk, go for rides with good friends, Melinda LaPan, "Mindy" and Edward Bennett. He also loved to look for minnows and check his traps or loving to watch his old western TV shows.
Smiley leaves behind his seven children, Timothy Flood Sr., and wife Angel of St. Albans, Roland Flood and companion Luanne Aurland of Swanton, Pat Flood and companion Tasha Pecor of Swanton, Melynda Therrien of St. Albans, Lisa Therrien of Highgate, Joseph Therrien, Jr., of Swanton, Kayla Therrien Demar of St. Albans; step-son, Larry Bushey of St. Albans; grandchildren, Timothy Flood Jr., Tiffanie Flood Carrie Ann St. Francis, Anna Rose Flood, Caitlin Flood, Adam Boomhower, Skyler Bissell, and unborn granddaughter, Nakyta Lisa Therrien and many more grand and great grandchildren; and several, nieces and nephews; his brother Lawrence and two sisters, Laraine Therrien and Lucille Kittredge. Also the mother of his children, Melinda LaPan, Shirley Flood and Lori Derosia
He was predeceased by his mother in 1988 and his father in 1980.
Smiley will always be remembered for his smile , but most of all for his funny personality with burning pork chops, feeding his dog scooter, loving to eat cake, listening to his police and fire scanner, going for rides around the island, eating jalapeno hot dogs and selling bait. He will be missed by many but never forgotten.
Funeral Services and Interment will be announced at a later date. Gifts in Smiley's memory may be made to the family, in care of, Lisa Therrien, P.O. Box 1165, St. Albans 054788.
Arrangements are under the direction of The Kidder Memorial Home, 89 Grand Ave., Swanton 05488.
To offer private online condolences please visit: www.kiddermemorialhome.com or post on Facebook site: In Loving Memory of Joseph Therrien