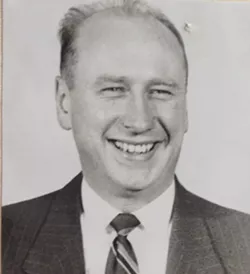 John Leonard Vergin, 95, died Thursday, November 3, 2016, at his residence in Burlington following a brief illness. He was predeceased by his wife Barbara (Ohrt) Vergin and daughter Joan Vergin. He leaves behind his granddaughter, Skylar Brookwood.
John was born on October 9, 1921 in Kamsack, Saskatchewan, Canada. He attended the University of Saskatoon, earning a bachelor of science degree in electrical engineering and later attended the University of Manitoba at Winnipeg, earning a degree in law. He was admitted to the Manitoba Bar in 1953.
In 1963 John began his employment in the United States with the Department of Public Safety as a Captain in the Vermont State Police. Between 1963 and 1973 John was a Captain with the State Police, a Deputy State Fire Marshal, and a State Director of Fire Prevention. Between 1973 and 1982, John was a Building Safety Engineer. Late in 1982 John was appointed as the Chief for Planning and Review, a position he held until 2013, when he retired at the age of 92.
John led an incredibly full life and will be greatly missed.
At the request of the deceased, there will be no service.
His family wishes to extend their sincere gratitude to the loving staff at Pillsbury Manor North for their support in his final days.