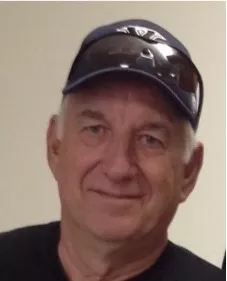 Burlington/Winooski VT
John was born in Westfield MA to the late John and Katherine (Zales) Malcovsky.
He graduated class of 1966 from Westfield High School and 1970 from St. Michael's College.
He was a teacher and coach at Grand Isle and Winooski Schools. He was an avid collector of toy trains, milk bottles, pinball machines and friends. He played the accordion for many birthday parties and was an enthusiastic golfer, achieving a hole-in-one. He loved eating at Papa Frank's and baking for his friends and family. He organized the Winooski Dollars for Scholars Train Show for 23 years, raising money for student scholarships as a way "to pay it forward" for the opportunity he was given to attend college.
He is predeceased by his father, mother and brother Joe. He is survived by his cosmic life partner Barb Pitfido and her son Max, sons John P. (Daniela) and Andrew (Andrea), sister Kathy (Gene) and brother Jerry (Renee), grandsons Max and Alex, nephew Jerry Jr. (Kristy), nieces Emily (Eric), Abigail (Josh) and Andrea (Doug), grandnephews RJ, Mike, Frankie and Oliver, grandniece Abbie, cousins Theresa (John) and Sister Christopher.
John will be greatly missed by the many friends he made in his lifetime from Westfield, St. Michaels College, Grand Isle and Winooski School Districts, The Winooski Senior Center, Burlington Meals on Wheels, golf tournaments, local and national Train Associations and shows, and everywhere he went. John had a special gift for making connections with people.
Special thanks to the staff of Joy Drive Dialysis, the VNA Respite House and Home Health Nursing, the UVM Cancer Center, Palliative Care and Shepardson 4 Oncology for their kindness and compassion during John's illness.
According to John's wishes, a Celebration of Life will be arranged at a later date.
Donations in John's name may be made to Dollars for Scholars Programs in Westfield MA or Winooski VT. John asks that you consider blood and organ donations as a way to leave a legacy and offer a second chance to return loved ones to their family, friends and communities.