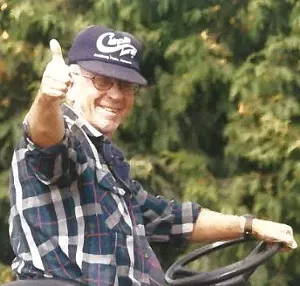 I had a long life and was a resident of Georgia, Vermont and passed away peacefully on Sunday, July 17, 2016, at my home in Georgia, surrounded by loved ones.
I was born on April 13, 1934, in St. Albans, Vermont. I was the son of the late Howard C. "Doc" and Harriet (Davis) Rhodes. I was 82 years old.
I was raised on Brown Avenue in St. Albans, Vermont and attended the Barlow Street Elementary School. I graduated in 1952 from Bellows Free Academy and was a 1956 graduate of the University of Pennsylvania Wharton School of Finance & Commerce. Following graduation from the University of Pennsylvania I served in the U.S. Army and received my honorable discharge in 1962. After my discharge from the U.S. Army, I returned to Vermont and began a rewarding career in sales, finally retiring from the New England Telephone Company when I began a "successful" career in real estate development in Georgia, Vermont, and I was active in that career until my death. In addition to my parents, I was preceded in death by my close friend, Blanche Vail, my brother, Howard C. "Howie" Rhodes, my good friend since college, Tom Curran, and my good friend, Larry Larrow.
I will now have a chance to continue my bridge and pool games with my past departed friends from the Owl Club.
I am going to miss my best friends, Jeff and Terri Nielsen and their two children, Annika and Gunnar, of Georgia, Vermont; the wife of my college roommate, Doris "Ducky" Curran, and her four boys, Tom, Jr., Joe, Jimmy, and John Curran, and their families; Peg Larrow, and her children, who are Lonny Buskey, Lawrence Larrow, Jr., Lane Larrow, Leigh Hicks, and Lloyd Larrow, and their families; and my nephews, Adam Rhodes and Aaron Rhodes, and niece, Melissa Rhodes, children of my late brother, Howard Rhodes; as well my many friends over the years.
My relatives and friends are invited to attend calling hours on Friday, July 22, 2016, from 5:00 to 9:00 PM at the Heald Funeral Home, 87 South Main Street, St. Albans, Vermont.
A graveside funeral service with military honors will be held for me on Saturday, July 23, 2016, at 12 Noon at the John Rhodes Memorial Cemetery, Harriet's View South Entrance, 2394 Georgia Shore Road, Georgia, with reception to follow at my home.
In lieu of flowers, memorials may be made in my name to the Vermont Veterans Home, 325 North Street, Bennington, Vermont 05201 and/or The Fisher House Foundation, 111 Rockville Pike, Suite 420, Rockville, Maryland 20850, two of my many favorite charities.
"Until I see you again," John
Messages of condolence are welcome at www.healdfuneralhome.com.