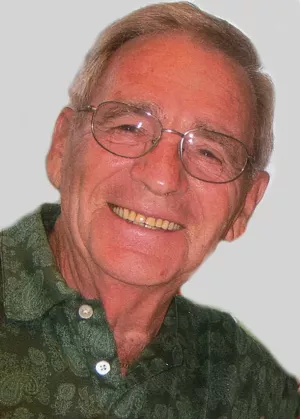 John G. Boucher, age 87 years, died late Sunday evening, October 19, 2014, in the Northwestern Medical Center.
Born on the family farm in Highgate Center, August 3, 1927, he was the son of the late Rene and Imelda (Choquette) Boucher. He was the middle child in a family of 11 children.
From 1943 to 1973 John was a dairy farmer in Highgate Center..
On August 16, 1952, he married his true love Anita (Viens) Boucher. Together they settled on the home farm and began a family that would include six children.
In 1968 John and Anita established Boucher Equipment in Highgate. It began as a small garage and grew substantially over the years to its present size. After suffering from heart problems, John retired in 1986 when his son Jim purchased the dealership. Following retirement John and Anita spent their winters in Vero Beach, Florida, enjoying golf, bridge and socializing.
John was active in the community as a member of the Champlain Country Club, Elks Lodge in Saint Albans, life member of the Knights of Columbus, Council of Swanton He also served on both the Highgate and Missisquoi Valley school boards, was a member of the Franklin Lamoille Bank Advisory Board and was a director of the New England Dealer Board. He was a faithful parishioner of both Saint Louis Church in Highgate Center and The Church of the Nativity in Swanton serving many years on both parish councils.
In addition to his wife of 62 years, Anita, John leaves his children and their spouses, Jeanne and Robert Holt of Burlington, Carol and David Hubbard of Swanton, James and Cheri Boucher of Essex Junction, Betty and Larry Lavoie of Swanton, Michael Boucher and Heather Sheehan of Milton and Mark and Kathryn Boucher of S. Burlington; grandchildren, Matthew Hubbard, Melissa Larose, Erin Gagne, Abigail Boucher, Beth Boucher, Meghan Boucher and Nathaniel and Alyson Sheehan; great grandchildren, Gavin and Ava Hubbard, Parker, Hunter, Burke and Tatum Larose and Jackson and Oliver Gagne; his siblings and their spouses, Yvette and George Mazuzan of Shelburne, Claire Gabso of Shelburne and Lucille and Duane Biever of Poughkeepsie, New York; Gilbert and Gemma Boucher of Highgate Center and Paul and Ellen Boucher of Maple Grove, Pennsylvania and a sister-in-law, Madeline Boucher of Saint Albans as well as many nieces and nephews.
John was predeceased by his brothers, Germain Boucher, Brother Laurent Boucher, CSC, Father Maurice U. Boucher, SSE, Doctor Bernard Boucher and Hertel Boucher.
The Liturgy of Christian Burial will be celebrated Friday October 24, 2014, at 11 a.m. from The Church of the Nativity of the Blessed Virgin Mary. Father Luke P. Austin will be the celebrant and Father Thomas D. Nadeau the homilist. The Rite of Committal and Interment will follow at the Boucher family lot in Saint Louis Cemetery. Lamkin Street, Highgate Center.
Friends may call at The Kidder Memorial Home, 89 Grand Avenue, Swanton on Thursday from 2 to 4 and 7 to 9 p.m. Father Austin will conduct a Vigil Service at 8:45 p.m. followed by private confessions.
For those who wish gifts in John's memory may be made to the Saint Jude's Children Research Hospital, 262 Danny Thomas Place, Memphis, TN 38105
To offer private online condolences please visit: www.kiddermemorialhome.com