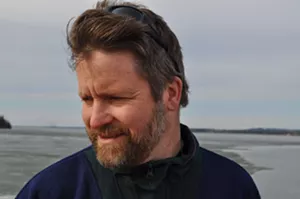 John Emil Novotny — biomechanical engineer, educator and saber fencer — died at home on September 24, 2019. A longtime resident of Burlington, John taught mechanical engineering at the University of Vermont and was known for his supportive teaching and mentoring of students.
John grew up in Kennebunk, Maine. He attended Yale University and graduated with a BS in mechanical engineering. At Yale, he served as captain of the fencing team and was an All-American saber fencer. After a fellowship in Switzerland, John attended the University of Vermont, earning an MS in biomedical engineering in 1992 and a PhD in mechanical engineering in 1997. He married his college sweetheart, Dawn Ellis, in 1999. He was an assistant professor of mechanical engineering at the University of Delaware, then returned to UVM, where he made substantial contributions to the engineering curriculum. A voracious reader, John also coached Little League, helped start the Vermont Fencing Alliance and spent many hours volunteering.
John is survived by his wife, Dawn, and their two sons, Miles and Theo. John was preceded in death by his sister, Jayme Novotny. He is also survived by his parents, Marilyn and James Novotny; his brother, Jim; and his sisters Lynanne and Laura and their families.
A remembrance space will be hosted on Friday, October 25, 2019, from 2 to 8:30 p.m. at the UVM Interfaith Center, 400 S. Prospect St., Burlington. For more information, visit the John Novotny Remembrance Facebook page.
In lieu of flowers, cards or donations may be sent to support his family's transition to D. Ellis at P.O. Box 8245, Burlington, VT 05402, or to the John Novotny Memorial Fund at UVM at go.uvm.edu/novotny.