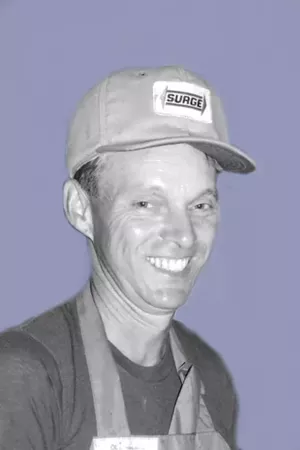 John Clement Rainville, dairy farmer and lifelong citizen of Franklin, passed away July 3, 2016. Born August 31, 1940 Mr. Rainville was the youngest child of Wilfrid and Alsyma (Tarte) Rainville. He graduated from Franklin High School in 1958, where classmates included his future wife, Elizabeth "Betty" Myott. Their 1969 union produced three sons: Anthony, Brian, and Craig.
With the exception of service in the United States Army during the Vietnam conflict, Mr. Rainville lived his entire adult life in the quiet northwest corner of Franklin known as Morses Line. First with his brother Richard, and then with his wife and sons, Clement labored to improve the land and buildings of the Rainville farm. That property was the center of his world, and the means by which he continually provided for his family.
Clement was a longtime communicant of St. Mary's Roman Catholic Church in Franklin, where his father and mother invested nearly a century of combined service as head usher and organist. He was predeceased by his brother, Richard and sister, Rita (Parent).
Clement is survived by three siblings and their spouses; Andrew and Imogene (Columb) Rainville of Franklin, Roger and Denise (Laroche) Rainville of Swanton, and Aline and Claude Magnant of St. Albans. In-laws include George Parent of West Enosburg, Lucille Rainville of Franklin, Ann Desroches of Franklin, Ruth and Jack Miller of North Hero, Rita and Ron Poulin of Barre, Larry and Diane Myott of Franklin. Clement is also survived by a large extended family.
An avid reader with a passion for current events and history, Mr. Rainville was active in the Democratic Party and a range of farm organizations. He was honored to have been named Soil Conservation Farmer of the Year in 1985 and see the family farm consistently named one of Vermont's "Dairies of Distinction." Until recent years, when the effects of Diabetes and Farmer's Lung checked his pace, Mr. Rainville marched proudly among fellow veterans in Franklin's Memorial Day Parade.
Friends may call on Wednesday, July 6th from 4 to 8 p.m. at The Kidder Memorial Home, 89 Grand Avenue, Swanton, VT. The Liturgy of Christian Burial will be celebrated Thursday, July 7th at 11 a.m. from St. Louis Roman Catholic Church, 186 Lamkin St., in Highgate Center, VT. Clement's cousin, Father Marcel R. Rainville, SSE will be the celebrant and homilist. The Rite of Committal and Interment will follow at St. Louis Cemetery.
In lieu of flowers, donations may be made to the Franklin County Rehab Center Activity Fund,
110 Fairfax Road, St. Albans, VT 05478, or to the charity of your choice. Clements's family is thankful for the superlative care he received from the Rehab's dedicated staff.
To offer private online condolences please visit: www.kiddermemorialhome.com
802-868-3331.