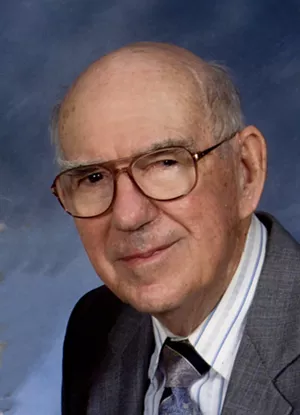 Jack died peacefully on February 13, 2016, surrounded by his loving family to which he was devoted.
He was born on April 5, 1925, the second of six children of Alice and John Mood in Smyrna, Delaware. During WWII he enlisted in the Army Air Corps and trained as a navigator-radar observer on a B29 bomber. He studied engineering at Syracuse University and graduated Magna Cum Laude in 1950. That same year he married Eleanor O'Brien. He worked for Exxon Research and Engineering for 30 years, building or refurbishing oil refineries abroad.
Jack and Eleanor had four children, each born in a different country. He had a great love of children and when in Antwerp Belgium, he supervised the building of the gymnasium at the Antwerp International School and became president of the School Board.
After he retired, Jack pursued many interests including golf, bridge, working with stained glass, lapidary, operating a ham radio and teaching English as a second language. He was an enthusiastic COTS Book Buddy enjoying many hours reading with children in the shelter. Always busy!
He is survived by his wife Eleanor, his daughter Jacqueline Bolster and her husband Glen; son Thomas and his wife Jeannine; daughter Lisa Mood; daughter Desiree Nichtula and her husband Jim and his grandchildren Jessica, Charlotte and Stephanie Bolster; Greg Harvilla and Sheila Mood; Daniel, Kevin and Suzanne Nichtula.
A Mass of Christian Burial will be held at Holy Family Church in Essex Junction this Saturday, February 20, at 11AM. In lieu of flowers, donations can be made to COTS, St. Joseph's Indian School or your favorite charity.