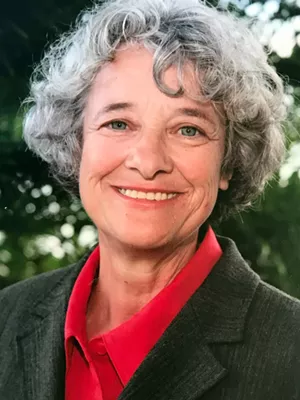 Jo-Ann Golden — activist and fighter for human rights, civil rights for the LGBTQ community, and environmental and economic justice — passed away on Monday, October 28, 2019, at home in Lake Worth, Fla., after a courageous battle with cancer.
Jo-Ann's commitment to the planet began simply enough as a volunteer firefighter in Westminster, Vt., in the 1970s. She was a founding member of the Women's Crisis Center in Brattleboro and helped to build institutions and the southern Vermont community in many ways.
Once in Burlington, she worked hard to promote greater understanding of the U.S. role in Central America, serving as coordinator of the Burlington, Vt./Puerto Cabezas, Nicaragua, Sister City Program, joining the first Witness for Peace Delegation to Latin America and producing documentaries to educate the public, including Que Pasa, produced with CCTV.
After moving to Florida in 1989, Jo-Ann turned her talent and love for building and carpentry into a fine furniture business. She shared her skills and devotion to economic opportunity as program coordinator at Jeff Industries, a job-skills program for individuals with severe mental illness. Ever the social entrepreneur, Jo-Ann also launched Project Women Can and trained many local unemployed women in basic carpentry skills. As project manager for the Lake Worth Community Development Corporation, she oversaw the design and construction of new, affordable homes for first-time home buyers.
Jo-Ann was an active board member and president of the Palm Beach Chapter of the National Association of Women in Construction, secretary of the American Civil Liberties Union (ACLU) Palm Beach Chapter, and secretary/treasurer of the Sam and Adele Golden Foundation for the Arts.
In an effort to make larger, systemic changes, Jo-Ann won two terms as a commissioner for the City of Lake Worth, Fla. (2007 to 2011). She pushed hard to support immigrants who lived in the city and was outspoken on many environmental issues, including ensuring full public ownership of Lake Worth beach, ending beach dredging and supporting renewable energy programs. Jo-Ann was instrumental in the completion of a reverse-osmosis plant for the city's water supply. During her tenure, the city improved all its parks and expanded recreation opportunities for children and adults.
Jo-Ann loved her home, turning a sandy lot and small cottage into a tropical paradise with gardens, birds and beautiful architecture. Jo-Ann is survived by her longtime companion Tennant Glenn Davitian, as well as her brothers, nephews, nieces, and a large and devoted community of friends.
Jo-Ann's imprint is deep. Her clarity, tenacity, unrelenting work and abiding love live on as a beacon to all.