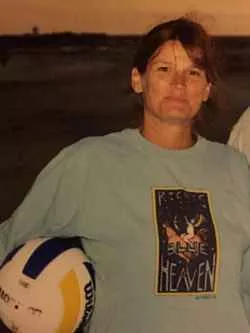 Jennifer Helen Fyles, 56, after a long and courageous battle with cancer, passed away peacefully on Tuesday evening March 8th, 2016.
She was born in Manhasset, NY on December 5th, 1959, the daughter of Roderick Allen Fyles and Mary Hungerford Fyles.
Jenny was born with her mom's beauty and her dad's energy. She poured herself in to every endeavor, whether it was raising her family, perfecting her art, or caring for animals. Her smile and laugh could light up any room.
She attended First Colonial High School in Virginia Beach, VA and later graduated from Phillips Exeter Academy in 1977. She received her Bachelor in Fine Arts, Magna Cum Laude, from Ohio Wesley University in 1981 and received her Masters in Education from the University of Vermont in 1983.
Jenny married Dr. Alan Potthoff in 1984 and they raised three wonderful children. Often their home on Lawn Avenue was center of activity for many of the neighborhood kids. Jenny was very active in the Portland community. She was the Art Director at the Longfellow Elementary School, founder and director of the Deering Girls' Ice Hockey Team and an active member of Trinity Episcopal Church. In January, the vestry at Trinity awarded Jenny the annual Ruth Barnard award for service to the church.
In 2007, Jenny and Alan designed and built the Maine Veterinary Referral Center (MVRC). During the development process she provided an artists touch to many facets of the MVRC. Operating rooms were designed to allow a lot of natural light and the décor of the building included a warm fireplace and cozy furniture to provide the customers and pets with a comforting home atmosphere. Over the years, Jenny and her family adopted several disadvantaged or handicapped pets and provided them with a home full of loving care.
Jenny had a passion and gifted talent for painting. Perfecting her craft for over fifty years she continued to explore new mediums and expressions. As a young girl in Key West, she was a student of Natalie Shein, a noted local artist who first introduced Jenny to painting with oils. Jenny went on to paint in many different mediums but oils were her first love and forte. Jenny would later become an art teacher herself when she established the first art program at Pine Ridge, a school of learning for disabled adolescents. Later in life, she and two fellow artists established the Terrazzo Art Gallery in downtown Portland. For the last four years of her life Jenny was honored to be a member of the Cheverus faculty where she truly enjoyed being a part of the school's art program.
Jenny's fondest memories were shared with family and friends at the "The Pines" at St Albans Bay in Vermont, Goose Rocks Beach in Maine, and her summer cottage at Wissmans Point in Harpswell, Maine. In her final years, her three labs, Blue, Laney, and Gus brought her great comfort and joy.
Jenny is survived by her daughter, Jocelyn Potthoff of Portland, Maine, her daughter, Bronwyn and son-in-law, Matt Barnett, of Alfred, Maine and her son, Peter Potthoff of Scarborough, Maine. Jenny is also survived by her brother, Peter and his wife, Barbara Fyles of South Burlington, Vermont, brother, Chris Costes and his partner, Laurie Austin, brother, Greg Costes and his partner, Annette Tripanny, her father, Senator George T. Costes and his wife, Diane, all of St Albans, Vermont, her aunt, Judy Benoit of Falmouth, Maine and several cousins, nieces and nephews from the Costes, Benoit, Hungerford, and Potthoff families.
Jenny was predeceased by her father, Roderick Allen Fyles in 1970, her mother, Mary Fyles Costes in 1986, her daughter, Anna Jennifer Potthoff who was lost at birth in 1991, and her brother, Theodore George Costes who passed away in 1998. Although she lost her mom and dad at such an early age, Jenny felt very lucky to have her father George and her aunt Judy who have done such a beautiful job in filling a tremendous void in her life.
Relatives and friends are invited for a time of visitation to be held at the Jones-Rich-Hutchins Funeral Home, 199 Woodford Street, Portland, Maine from 4PM to 7PM on Friday March 25th, 2016.
A memorial service will be held Saturday March 26, 2016, at 11AM at Trinity Episcopal Church, 580 Forest Ave, Portland, Maine with Rev. Larry Weeks and Rev. George Collins, S.J. officiating.
Interment services to be held at the family lot in St Albans Bay Cemetery in Vermont will be announced later this spring.
For those wishing to honor Jenny's memory, please consider a contribution to the Barbara Bush Children's Hospital c/o Maine Medical Center, 22 Bramhall St, Portland, Maine 04102.
Messages of condolence to Jenny's family are welcome at www.healdfuneralhome.com.