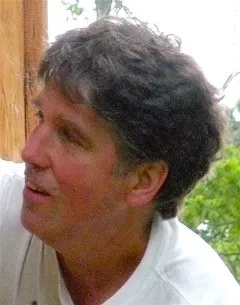 Courtesy Photo
Jeff Boomhower
Jeff Boomhower passed away at home on Monday, December 21, 2020, surrounded by his family after a valiant struggle with cancer. Jeff's last hours were peaceful and pain free. Until then, he was mobile and planning out his next adventure.
Jeff spent his formative years living in the Underhill community with the Browns River and Green Mountains as his guides, fishing, hunting and skiing. Problem solving was his largest fascination. His creative problem-solving skills came in handy while working for the Williston Schools and Engleberth Construction.
He was known to tie a sail to his canoe and hop from one Champlain Island to the other. During the time between camping trips, he preferred living in cabins he had made. In addition to the family clan, Jeff knitted together a group of friends and musicians with whom he camped and traveled from one bluegrass festival to another throughout the summer.
Jeff leaves his son Alex Boomhower; his wife, Celeste Plouffe, the love of his life; and a large extended family, all of whom will miss him deeply. We take comfort in knowing he is plucking tunes, drumming, hunting, fishing and regaling all of those who went before him with the stories of a life where every ounce of energy was spent enjoying our beautiful planet. As with us, he will have them laughing and dancing until dawn. Once the hay is cut and COVID-19 subsides, there will be a celebration of life in Jeff's honor.
Thank you to the staff at the University of Vermont Medical Center for their superior care. Thank you to Vermont Home Health and Hospice for making Jeff's last days so beautiful. Please consider giving a donation to the University of Vermont Cancer Center (UVM Medical Center Development Office, Courtyard at Given North 3rd Floor, Burlington, VT 05401) or to Vermont Home Health and Hospice (UVM Health Network - Home Health & Hospice, Attn: Office of Development, 1110 Prim Rd., Colchester, VT 05446).
Arrangements have been entrusted to the care of the Cremation Society of Chittenden County, a division of the Ready Funeral Home. Please visit cremationsocietycc.com to place online condolences.