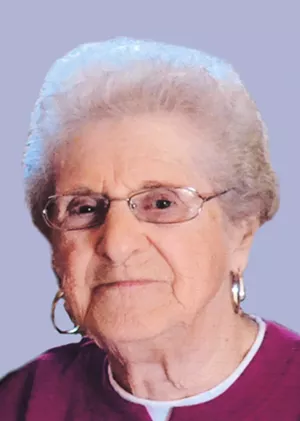 Mrs. Jeannette Mary Tarte, age 92 years, died Friday morning January 2, 2015, in the Franklin County Rehab Center with loving family at her side. A native of Highgate Jeanette most recently resided for several years at the Swanton Village Apartments where she had many friends
Born in Highgate on January 31, 1922, she was the daughter of the late William and Eva (Duval) Tremblay. She attended Saint Anne's Academy and Highgate schools and on June 13, 1942, was married to Gerard "Jerry" Tarte who predeceased her on November 12, 2009, after 67 years of marriage.
She was a lifelong parishioner of Nativity of the Blessed Virgin Mary / Saint Louis Parish and a member of the Saint Louis Ladies of Saint Anne. Jeanette will be remembered for love of sewing, playing Bingo and cards as well as trips with her family to the Akwesasne Casino.
Jeannette leaves three daughters, and their spouses, Pauline and Gordon Beyor of Alburgh, Denise and George Sample of Mooers Forks, New York and Monica and Leeward Miller of Mooers, New York; a brother, Paul Tremblay of Highgate Center; a sister-in-law, Armande Tremblay of Highgate Springs; 11 grandchildren, 17 great grandchildren and many nieces and nephews.
Besides her parents and husband Gerard, Jeannette was predeceased by her son, Marcel Tarte on June 25, 2001; two grandchildren, Brian Beyor on May 25, 1991 and Olivia Tarte on April 16, 1995, also two brothers and a sister-in-law, Pamphile Tremblay and Hector and Bernadette Tremblay.
Jeannette's family wishes to extend their sincerest thanks to the management and staff of the Franklin County Rehab Center for their love, professional care and support to both Jeannette and her family.
The Liturgy of Christian Burial will be celebrated Thursday January 8, 2015, at 11 a.m. from Saint Louis Roman Catholic Church, 186 Lamkin Street, Highgate Center. Father Marcel R. Rainville, SSE will be the celebrant and homilist. The Rite of Committal and Interment will follow at the Tarte family lot in Saint Louis Cemetery.
Friends may call at The Kidder Memorial Home, 89 Grand Avenue, Swanton on Wednesday from 4 to 7 p.m.
Gifts in Jeannette's memory may be made to the Franklin County Rehab Center LLC, 110 Fairfax Road, Saint Albans 05478
To offer private online condolences please visit: www.kiddermemorialhome.com