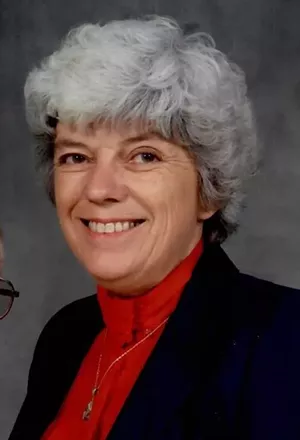 Courtesy Photo
Jean Lafayette Dean Jasman
Jean Lafayette Dean Jasman, 90, died August 23, 2020, at her home on Loomis Street in Montpelier, with family at her bedside, after a period of declining health. A Catholic Funeral Mass celebrating Jean's life will be held on Saturday, October 3, 11 a.m., at St. Augustine's Catholic Church in Montpelier. Calling hours will be Friday, October 2, 6 to 8 p.m., at Guare's and Sons in Montpelier. Family and friends are encouraged to wear face masks and observe social distancing.
Jean was born October 8, 1929, the daughter of Roland Sr. and Gladys (Ring) Lafayette of Waterbury, Vt. She attended schools in Waterbury, graduating from Waterbury High School in June 1947. She remained close to her Waterbury classmates all her life. During her lifetime, Jean was the town clerk in her hometown of Waterbury, worked at radio station WDEV and was the administrative assistant to Vermont speaker of the house Timothy O'Connor (1975 to 1980). Jean then worked for the Vermont House of Representatives as the Vermont House calendar clerk, keeping the daily House calendar meticulously for 31 years (1981 to 2012.) She retired from her Statehouse job in 2012 at age 82.
She was a devoted member of St. Augustine's Catholic Church in Montpelier and Catholic Daughters of America Chapter #976. She was a feisty, strong-willed woman who at the same time was kind and generous. Jean loved playing cribbage and Scrabble, handily beating people half her age at either game weeks before her death. In recent years, she was active at the Montpelier Senior Activity Center, participating in the Living Strong senior exercise class four times a week. In earlier years, she enjoyed traveling to Europe, Mexico and Brazil, as well as visiting many family members in California.
Jean was the mother of three children: K. Scott Dean, who passed away in March 2007; Debra D. Thereault of Mexico; and C. Kenneth Dean of Montpelier. Jean married C.K. "Sonny" Dean, originally of Alburgh, Vt., on April 30, 1949, in Waterbury at St. Andrews Catholic Church. At the time, he was comanager of Bailey's Department Store in Waterbury and Montpelier locations, where both Jean and her mother, Gladys Lafayette, worked for many years. Later the couple moved to Franklin and Grand Isle counties and lived in Swanton, raising their family there. From 1962 to 1965, Jean was the administrative assistant to the CEO of Kerbs Hospital in St. Albans. Jean's first husband passed away in April 1966. Upon returning to Waterbury, from 1966 to 1969, Jean was the administrative assistant to Al Moulton, development and community affairs commissioner, in the Philip Hoff administration. Subsequently, Jean became the bookkeeper at WDEV, 1969 to 1972, and was elected town clerk of Waterbury in 1972.
Jean married Charles W. Jasman of Montpelier on October 14, 1972 , and the couple made their home on Loomis Street in Montpelier. Charlie Jasman passed away in August 1993.
Survivors include her children, Ken Dean of Montpelier, Debra and Roland Thereault of Mexico, her daughter-in-law Susan Hunt of Townshend, Anna and William Crowther of Barre Town, Douglas and Vicki Jasman of Montpelier, Aime "Nick" and Cindy Jasman of Virginia, and Mary and Robert Rougeaux of Alabama; 16 grandchildren; 19 great-grandchildren; her brother, Roland, and Irene Lafayette of Waterbury; her brother-in-law Nicholas Doiron of Sacramento, Calif.; her brother-in-law Bob and Margie Dean of Campbell's Bay of West Swanton; and many nieces and nephews from the Lafayette, Doiron, Dean and Jasman families.
Jean was predeceased by her husbands, her oldest son, her parents and her siblings: younger brother John Lafayette, who died in Vietnam in April 1966 while serving with the U.S. Army, and younger sister, Joyce Doiron of Sacramento, Calif. Jean was a wonderful person, a rare soul, and an excellent mother and grandmother to all her children. She had a remarkable life of giving and sharing, and she will be truly missed. We feel blessed having had her in our lives, guiding our steps. Even though she is no longer physically with us, her Eternal Spirit is very present to us each day. Jean was like that. And still is.
The family wishes to thank the excellent staff and nurses from Central Vermont Home Health and Hospice during Jean's hospice care at home, especially first-rate LNAs MaryAnn and Pam, and RNs Julie, Michelle and Casey. In lieu of flowers, please consider remembering Jean with a donation to Central Vermont Home Health and Hospice, 600 Granger Rd., Barre, VT 05641.
Arrangements are by Guare & Sons Funeral Home. Online condolences can be made at guareandsons.com.