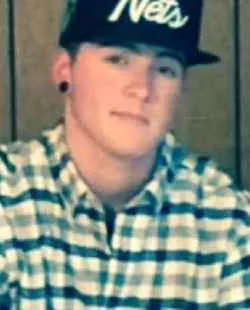 Jay Daniel Taylor passed away unexpectedly Tuesday August 30th, 2016, at his home in Dannemora, New York.
Jay was born in St. Albans on July 29th, 1996; he was 20 years old and was a 2014 graduate of Bellows Free Academy. For the past two years, he was a deck hand with the Lake Champlain Transportation Company. He was a recipient of Employee of the Month and received an Honorable Mention Award during his employment for putting out a fire in the warming hut saving this new building. He had a huge presence at work and great relations with coworkers and was studying to become a Qmed (Qualified Member of Engine Department). Jay enjoyed the outdoors, especially fishing and kayaking, as well as hunting and hiking. He also enjoyed playing the guitar and spending time with his family and friends and puppy Leo.
Survivors include his father, Daniel Ezzy of Dannemora, New York; his mother, Sheryl "Sherry" White and her fiancé, Daniel Juaire of St. Albans; his sister, Lindsay Ezzy and her fiancé, Codey Agoney and their son, Owen James Agoney and stepsisters, Danielle Juaire and Mercedes Paradee.
Jay is also survived by his grandparents, Louis Ezzy, Stephen and Alesia White, and June White and Julian Laroche; his aunts, Lisa White, Sandra Barbieri and husband, Lincoln, and Carrie Ezzy Bowring and his uncle Steve White. He also leaves behind his cousins, Cady Lykens, Evan Lykens, Nathan Barbieri, Ethan Barbieri, Dylan White, Makayla White, Logan White, Caleb Lyons, Ben Lyons, and Hailey Bowring. Jay was predeceased by a close friend, Logan Newell.
Relatives and friends are invited to attend calling hours on Tuesday, September 6th, 2016, from 5:00 to 8:00 P.M. at the Heald Funeral Home, 87 South Main Street, St. Albans.
A funeral service will be held on Wednesday, September 7th at 11:00 A.M. in St. Paul's United Methodist Church, 11 Church Street, St. Albans with Pastor Megan Stowe officiating. Interment will follow in the family lot in the St. Albans Bay Cemetery.
In lieu of flowers, memorials may be made to the Jay Taylor Go Fund Me Account at Jay Taylor's Memorial Expenses https://gofund.me/2mseaqk.
Messages of condolence to Jay's family are welcome at www.healdfuneralhome.com.