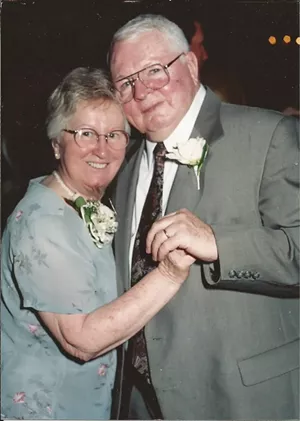 Courtesy Photo
Jane and Dean Corrigan
Jane Ann Corrigan passed away peacefully on January 12, 2021, at the age of 88 at home in Middlebury, Vt. She is survived by her husband, Dean; her sister Ellen Agan; her children Kevin Corrigan, Andrew Corrigan and Sarah Suggs; her grandchildren Elizabeth Moore, Dustin Corrigan, Krystal Bigelow, Dorothy Corrigan, Clara Corrigan, Henry Corrigan, Bailey Suggs, Taylor Suggs and Gracie Suggs; and her great-grandchildren Evan Corrigan, Ila Corrigan, Audrey Corrigan, Lily Moore and Jackson Moore.
Jane was born in Groveton, N.H., on May 11, 1932, to Hunter and Isabelle Kingsbury. She graduated from Keene State College with her degree in elementary education in 1954. She was passionate about education and taught at all levels. Her last position was editing doctoral dissertations for the Graduate Studies Office at Texas A&M University.
She married Dean Corrigan on December 22, 1954. Jane recently celebrated her 66th anniversary with the love of her life, Dean, who always called her "sweetheart" — as did almost everyone who met her. She was a loving mother who enjoyed being with her children and their families. She loved gardening and traveling. Jane and Dean did everything together and were fortunate to have traveled the world extensively, from Alaska to Europe and Australia. She was adored by all and will be deeply missed by her family, friends and all who knew her.
Due to the uncertainty of the current restrictions for gathering and travel, the family is postponing the celebration of her life until a remembrance can be scheduled safely. In lieu of flowers, donations can be made in her name to the Residence Appreciation Fund at 350 Lodge Rd., Middlebury, VT 05753 or Addison County Home Health and Hospice at 254 Ethan Allen Hwy., New Haven, VT 05472.