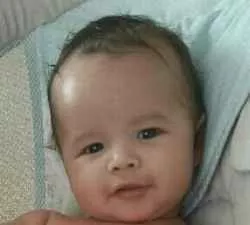 Jahmere Aramis James Lytch
Jahmere Aramis James Lytch infant son of Tajon and Paige (Cook) Lytch passed away unexpectedly Friday April 29, 2016.
He was born in St. Albans on January 30, 2016, and every day was made brighter and more joyous by his smile.
In addition to his parents, he is survived by his brother, Xavier; grandparents, Lisa and Greg Lefebvre, Robert and Angela Cook and Carolyn Lytch as well as his great-grandparents, Sarah Lytch, Jackie and Ray Many, Arnold and Rachel Sherman, Steve and Sharon Plouff, Jim and Joyce Wilson and Robert and Marge Cook. Jahmere is also survived by his aunts, Brooke Lefebvre, Chantel Foster and Ijyaina Lytch; uncles, Alex Lefebvre and Anthony Foster and cousins, Micah, Mario and Makayla Nicot and Milea Lytch.
Jahmere's family will receive friends on Wednesday, May 4, 2016, from 5:00 to 7:00 PM at the Heald Funeral Home, 87 South Main Street. A time of sharing will be held at 7:00 PM.
Messages of condolence to Jahmere's family are welcome at www.healdfuneralhome.com