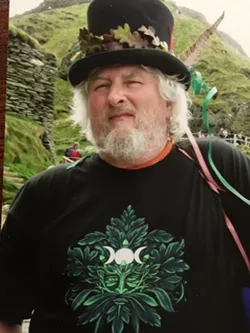 Ivan McBeth (Iain M. Smith), age 63 passed away peacefully just before dawn on the Equinox 9/23/16 in his home in Worcester, VT. Born 6/9/53 in Devon, England, he moved to the USA in 2005.
Ivan McBeth was a Druid in the Order of Bards, Ovates and Druids, and founded of the Green Mountain Druid Order, a modern mystery school based in Worcester, Vermont with his partner Fearn Lickfield. He was a founding member of the Oak Dragon Project in Britain, and taught regularly in various schools of healing and geomancy. He led regular ceremonies and courses around Vermont.
His passion was the creation of sacred space, and stone circles in particular. He was a founding member of the Circles for Peace project in the USA, and is co-responsible for the "Burlington Earth Clock', and another 25 full-sized stone circles around the world. He was a Reiki Master, and the author of a book called 'Crystal Journey.' He was resident DJ of Ecstatic Dance in Montpelier and throughout Vermont.
Ivan loved magic and loved life, and was committed to promote peace and the creation of sacred space in the world. To quote him on one of his good days: "Heaven is where you open your eyes in the morning!"
Memorial Ceremony, reception and feast will begin at the Burlington Earth Clock on Nov. 5th. Relatives and friends are welcome. For more info go to facebook.com/events/312766332417297/ or contact Fearnessence@gmail.com