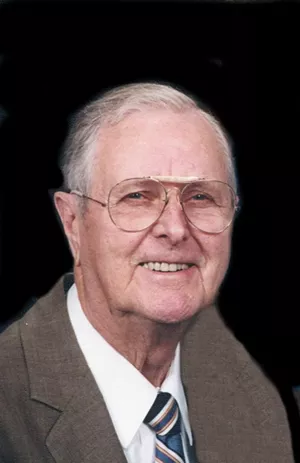 Howard Walter Brown, age 91, passed away on February 12, 2014, after a long period of declining health. Born in Sangerville, Maine on March 4, 1922, he graduated from Hartland Academy in 1940. He married Carolyn Haseltine in July, 1942, in Dexter, Maine, after which he joined the U.S. Army Air Force. Howard spent those war years in England and France, returning home in October, 1945.
Howard began working for the State of Maine as a Game Warden in 1946, assigned to the Lincoln District. In 1953 he began the next step of the career he loved as a Federal Game Management Agent for the U.S. Department of Wildlife and Fisheries. Throughout his tenure as an Agent, he was stationed in Maryland, New Hampshire, New Jersey and Vermont. He also spent many summers conducting waterfowl studies in Quebec, James Bay, Charleton Island, the Prairie Provinces, and the Maritime Provinces. He retired in 1977.
In 1984 Howard and Carolyn returned to Maine, to Jefferson, to a pond filled with ducks and beaver, with wild turkeys in their yard, where they built a log home for themselves; a culmination of their life-long dream. In 2003 they returned to Vermont to be closer to their children. Carolyn predeceased Howard in 2004, and he stayed in their home in Swanton until his death.
Howard is survived by his five children: Ernest (Kate) Brown, Pam (William) Palma, Lynn (Jay) Speer, Marilee (Paul) Contois, and Ken (Gayle) Brown; his grandchildren Sienna (Dante Blando) Brown, Thomas (Jessica) Brown, Analesa (Ron) Snyder, Aneta Palma, Jordan (Maria Allegrini) Speer, Hannah Contois, Hayley Contois, Phillip (Mary) Brown and Kristopher Brown; and his great-grandchildren Ron Snyder, Jr., Makayla Snyder, August Cyr, Jarek Cyr, and Kendall Speer, with another expected in July.
The family would like to give a special thanks to Bayada Hospice Care, especially Therese, Jeannine and Ashley, for their time and effort to keep Howard home and comfortable during his last days. They would also like to say thank you from the bottom of their hearts to Rosemary Palmer, who dedicated herself to keeping him safe, happy, secure and dignified up until the very end.
At Howard's request there will be no visiting hours or service. A celebration of his life will be held at a later date.