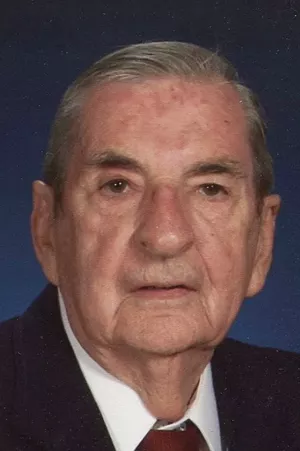 Howard C. Morse, 88, a native of Swanton and a resident of Vermont for most of his lifetime, passed away Monday afternoon, July 7, 2014 at Our Lady of the Meadows in Richford.
He was born at Fonda Junction in Swanton, August 29, 1925 the son of George Clark Morse and Winnifred Marie (Adams) Morse. Following his graduation from BFA, St. Albans, Howard served in the European Theater during WWII as a radio operator with the United States Army. He later joined the National Guard and was discharged in 1950 as a 2nd Lieutenant.
Howard had a 35 year career with the Boston and Maine Railroad serving as a train dispatcher and as an Assistant Superintendant before retiring in 1986. While residing in Massachusetts and New Hampshire he was a member of the Masons and after returning to Swanton, belonged to Charles DaPrato Post #778 of the VFW. Most recently he had attended the Georgia Plains Baptist Church.
On June 26, 2004, Howard married the former Esther Sweeney of St. Albans who survives him. He also leaves 2 sons; William of Ticonderoga, NY and Kenneth and his wife, Sheryl Scott of Pelham, NH, 1 daughter, Elizabeth Mazeau and her husband Marcel of Windsor, MA, 1 grandson, Christopher Mazeau of Windsor, MA, his sister, Charlotte Jacobs and her husband, Lyle of Fairfax, his in-laws; Blanche Gaboriault of Florida and Oscar Hemond of Arizona, his step-children; Dennis Greene, his companion Nancy and Deana G. Brown and her husband Samuel, his step-grandchildren; Samantha and Joshua Brown and many nieces, nephews and cousins.
Howard was predeceased by his first wife of 52 years, Doris Marie Claire Hemond on February 18, 2001 and by 2 brothers, Francis and Carlton Morse.
Funeral services will be held Friday, July 11, 2014 at 11 AM from the Kidder Memorial Home, 89 Grand Ave., Swanton. The Reverend Kerry T. Cameron will officiate. Interment will follow in the family lot in Riverside Cemetery. Friends may call at the Kidder Memorial Home, prior to the funeral service from 10-11 AM.
Gifts in Howard's memory may be made to a local charity of one's choice.
To offer private online condolences please visit: www.kiddermemorialhome.com