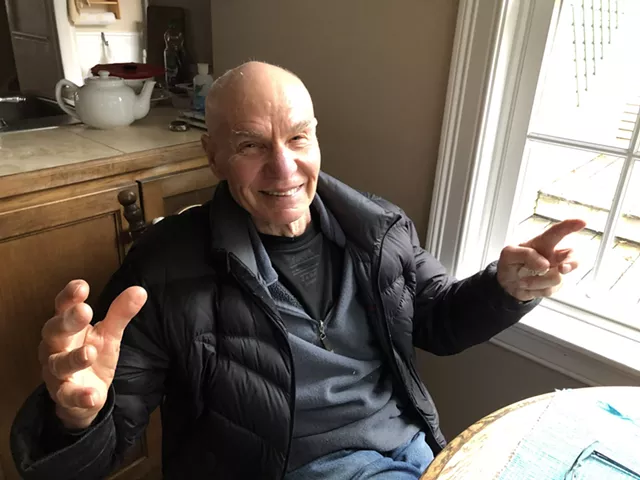 Courtesy Photo
Henry Weinstock
Henry Weinstock, 87, passed away after a brief illness at his home in Jericho, Vt., on October 2, 2021, surrounded by his immediate family.
Henry was born in 1934 in Antwerp, Belgium, to Eugene Weinstock and Yolande Lövi. He was a survivor of the Holocaust, narrowly escaping deportation in 1942. He was sheltered by the Comite de Defense des Juifs, an interfaith group affiliated with the Belgian Resistance that was responsible for saving the lives of 3,000 Jewish children. While hiding in the Ardennes countryside, he saw some of the fiercest fighting of World War II, during the Battle of the Bulge. He was eventually reunited with his father, who survived imprisonment at Buchenwald. In 1946, Henry and his father were among the first war refugees to arrive in the U.S. and described what they had witnessed in his father's published memoir, Beyond the Last Path. More recently, Henry was interviewed about his experiences for a Vermont Public Radio podcast entitled "Luck and the Kindness of Others."
As a teenager in New York City, Henry worked many odd jobs, including messenger, cabin boy and taxi driver. Drafted into the U.S. Army during the Korean War, he served as an X-ray technician at the 2nd Evacuation Hospital in Bad Kreuznach, Germany. During leaves, he traveled on his Zündapp motor scooter to Paris, where he found his passion for French language and literature. From a young age, he also spoke Flemish, Hungarian, English and German, and he acquired other languages while traveling extensively through North America, Europe, the Middle East and East Africa. At a youth hostel in Denmark, he met Joanna Smith, whom he would marry in 1969. Henry studied at the Sorbonne in Paris, The City College of New York, New York University and SUNY at Albany, where he completed a PhD in French literature. He taught French and English as a Second Language for many years at Rockland (N.Y.) Community College.
In 1984, the family moved to Jericho, Vt., where Henry became well-known for his love of French and biking, often combining the two with "century" rides into Québec and back. He was active in French conversation groups, peace and justice activities, and sharing his wartime experiences with school groups, always with a goal of promoting dialogue, understanding and compassion. He was also a fan of opera and classical music and was happiest on his bicycle, chopping firewood, tinkering with his vegetable-oil-fueled truck, reading French philosophy and meeting people wherever he went. During retirement, he continued to travel and supported Joanna in her work as a physician in Alaska, Arizona, China and Vermont.
Henry is survived by his wife, Joanna Weinstock, of Jericho, Vt.; son André "Jamie" Weinstock (Michelle Hewitt) of Somerville, Mass.; daughter Katherine "Kait" Armstrong (Kent) of Andover, N.H.; three grandchildren: Scout, Helen and Patch; a brother, Albert, of Hungary; and extended family and friends around the globe.
Henry and his family are deeply appreciative of the wonderful care he received while hospitalized at the University of Vermont Medical Center. A celebration of his life is planned for next summer. Contributions in Henry's memory may be made to localmotion.org "to build a better Vermont through biking and walking."
Arrangements are entrusted to the care of the Ready Funeral Home, South Chapel, 261 Shelburne Rd., in Burlington. Please visit readyfuneral.com to place online condolences.