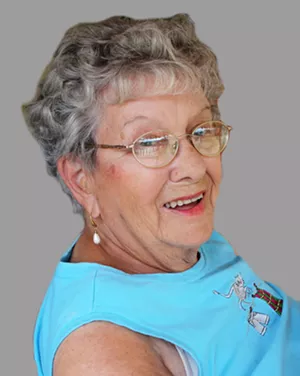 Henriette Choiniere Gagne
Henriette Choiniere Gagne, age 91 years, died Monday afternoon, March 30, 2015, in the Franklin County Rehab Center with loving family at her side.
Born in Sainte Jean, Quebec Canada on, April 2, 1923, she was the daughter of the late Philippe and Bernadette (Galipeau) Choiniere. She attended schools both in Canada and Highgate and on, October 10, 1942, was married to Rosaire T. Gagne who predeceased her on, October 10, 1994.
In addition to her many responsibilities as a farmer's wife and mother, Henriette also worked at the former George Yett Bag Factory and York Manufacturing in Swanton, and for 20 years at the Union Carbide Corporation of Saint Albans.
She was a lifelong parishioner of Nativity of the Blessed Virgin Mary / Saint Louis Parish and a member of the Saint Louis Ladies of Saint Anne. In addition to her many hobbies Henriette was a master rug and quilt maker and loved gardening and canning. She was also a member of the Highgate Home Dem Group and the Women of the Moose, Saint Albans Chapter 321.
Henriette was a very warm and loving person and a wonderful cook. She will be especially remembered for the beautiful meals that she lovingly prepared for many family gatherings.
Survivors include two sons and their wives, Denis and Katie Gagne and Michael and Liz Gagne all of Highgate; three daughters, Leonne Bombardier and husband Howard of Rutland, Bernadette Rabideau and husband John of Churchville, New York and Joanne Mapes of Alburgh and her friend Ricky Sterling of Milton; 15 grandchildren; 19 grandchildren; brothers and sisters, Fabio and Lucille Choiniere of St. Albans, Nicole Letourneau of Swanton, Henry and Raymonde Choiniere of Highgate Center, Louise Remillard of St. Albans and Joseph and Cathy Choiniere of St. Albans; sisters-in-law, Claire Choiniere of Franklin, Jean Choiniere of St. Albans, Eleanor Bean of St. Albans, Betty Desrochers of Swanton and Frances Choiniere of Swanton. Also surviving is a brother-in-law, Normand Gagne and his wife Georgette of Highgate as well as many nieces, nephews, great nieces and nephews.
Besides her parents and her husband Rosaire, Henriette was predeceased by two sons, Marcel on June 9, 1968 and Terrance on May 3, 2011; a daughter-in-law, Donna Rollo Gagne on, December 3, 1984; brothers, Robert, Jacques, Daniel, Donald and Andrew Choiniere; brothers-in-law and sisters-in-law, Gerard Letourneau, James Remillard, Pauline Choiniere Lussier, Alcide and Olivette Labrie and Roger Gagne.
The Liturgy of Christian Burial will be celebrated Tuesday, April 7, 2015, at 11 a.m. from Saint Louis Roman Catholic Church, 186 Lamkin Street, Highgate Center. Father Luke P. Austin will be the celebrant and homilist. The Rite of Committal and Interment will follow at the Gagne family lot in Saint Louis Cemetery.
Friends may call at The Kidder Memorial Home, 89 Grand Avenue, Swanton on Monday, April 6, 2015, from 2 to 4 and 7 to 9 p.m.
In lieu of flowers the family requests gifts in Henriette's memory be made to the Franklin County Rehab Center, LLC, 110 Fairfax Road, Saint Albans 05478 or to Nativity of the Blessed Virgin Mary / Saint Louis Parish, 65 Canada Street, Swanton 05478.
To offer private online condolences please visit: www.kiddermemorialhome.com