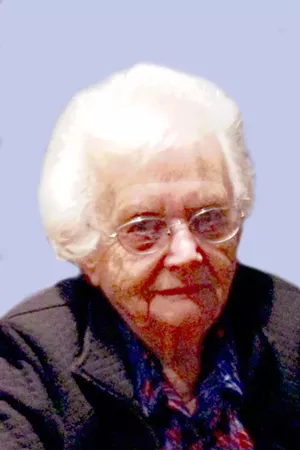 Helen M. Kelly, 94, long time Swanton Road resident passed away in Ft Smith, Arkansas on July 23, 2017.
Helen was born in Highgate, VT on February 4, 1923, the first child of the late William J Machia, Jr and Ruth (Bovat) Machia.
Helen's first job, after leaving home was at the Blue Haven Grill in Windsor, VT. Here she met James E Kelly, Jr, before he joined the Army Air Corp in 1942. Helen moved to New Haven, CT where she worked on the dashes of the North American P-51 Mustangs. Helen married James in Ft Myers, FL in 1944, then returned to her work as a Rosie Riveter.
Helen was a homemaker, who cared for her family, while planting and growing incredible gardens. Her vegetables received recognition in the area with annual return customers coming to purchase them, especially her delicious tomatoes. Helen also, had her pretty rock gardens with perennial flowers and window boxes filled with wax begonias, on the home that she and Jim built, starting in 1957. In later years, she loved feeding the birds, getting upset when the squirrels stole from her feeders. Helen stood at her kitchen window many hours watching the humming birds come to their feeder. She would even name some of these little friends.
Helen leaves a son, James E Kelly, III and Pamela of Ft Smith, AR. and three daughters, Linda Cota and Ken of Richmond Hill, GA., Carol Soule and Bob Longworth of Hartford, AR. and Patricia Jolie and Bob of Savannah, GA., nine grandchildren, eight great grandchildren and three great-great grandchildren.
Helen also leaves a brother, William J Machia, Jr (Charlene) and two sisters, Jean Durkee and Shirley Tompkins. Helen was predeceased by a brother, Ephriam Machia and three sisters Janet Machia, Barbara Price and Charlotte Lothian, several nieces, nephews and cousins.
Helen had a constant companion, Maddie during the last weeks of her life.
Funeral service will be at 11:00am on Saturday, September 9, 2017.
Kelly family lot in St Louis Cemetery in Highgate Center. Family requests that flowers or a tree be planted in their Mom's memory.
Kidder Memorial Home, 89 Grand Ave., Swanton, VT is in charge of arrangements.
To offer private online condolences please visit: www.kiddermemorialhome.com
802-868-3331.