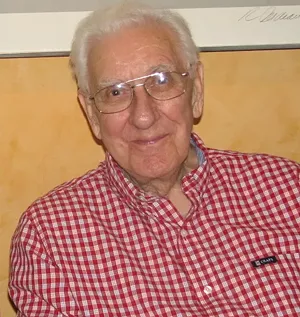 Courtesy Photo
Gordon Gebauer, Sr.
Gordon Charles Gebauer Sr. ("Charlie") died peacefully on December 28, 2020, in Essex Junction, Vt. He was born on September 18, 1923, in Hazleton, Pa., to William and Elsie (Bender) Gebauer. He was the youngest of seven children and grew up during the Depression when money was scarce but love was plentiful.
He joined the Navy in 1942 shortly after the bombing of Pearl Harbor and was eventually sent to the European theater. During the D-Day invasion, he was part of a three-man crew piloting a landing craft to and from Omaha beach. The first day he brought troops to the beach. By the second day, as the battle progressed, he brought in machinery and vehicles. After D-Day, he was reassigned to the USS LST-138, a much larger ship designed to bring tanks and heavy machinery onto a beachhead. He and his ship were in the Brooklyn Naval Yard preparing to go to the Pacific theater when Japan surrendered. He always said the party that spontaneously erupted in New York City was completely outrageous and something he would never forget.
Upon return from the war, Charlie met Dolores Avillion, his lifelong love. As family legend has it, he was on a date with someone else when he met Dolores and drove the date home so he could ask Dolores out. They were married in 1951 and went on to live 67 years together until Dolores passed in 2018.
Charlie and Dolores moved to Montclair, N.J., shortly after marrying, where Charlie worked in retail for the next 25 years, first at Hahne & Co. and then at Gimbels. During their time in New Jersey, Charlie and Dolores raised two children and developed many lifelong friendships. They moved back to Pennsylvania in the mid-'70s, where they owned and operated a small motel and restaurant in the Pocono Mountains until they retired in 2000. In 2015, they moved to South Burlington, Vt. After losing his beloved Dolores, Charlie moved into Mansfield Place in Essex Junction, Vt., until his recent passing.
Charlie was an all-round good man, good husband and good father. He was generous and colorful, the kind of guy who would literally give you the shirt off his back if you needed it. Charlie had a great sense of humor and developed many cherished friendships over his long life. He loved to build, rebuild, remodel or reconstruct anything he could get his hands on. He lived a long, productive life and was loved by all who got to know him. He instilled in his children a love of life and people but a disdain for stupidity. He will be greatly missed by all who were lucky enough to know him.
He is survived by son and daughter-in-law, Gordon Gebauer Jr. and Tina Shoup; daughter Pamela Gebauer DeLuca; and grandchildren Bryan Johns, Mark, Maria and Kimberly DeLuca; as well as a host of nieces, nephews, great-nieces and great-nephews.
Due to COVID-19, there are no funeral plans at this time. There will be a memorial service at a later date.