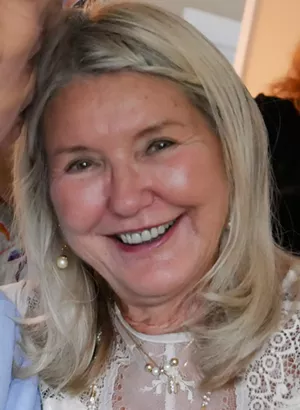 Beloved wife, mother and grandmother Gladys Dinnany Zelman, 76, of Jericho, Vt., passed peacefully on Monday, January 13, at Vermont Respite House following several severe strokes. Having been one of the first hospice nurses in Vermont, and knowing that there were no acceptable paths to recovery for herself, she elected to leave on her own terms, refusing further treatment.
Gladys was born in Jackson Heights, N.Y., and spent much of her childhood living near Long Island Sound. This inspired a lifelong love of the ocean and the outdoors. She always wanted to be a nurse. Her many educational attainments, including an RN degree from the Mary Fletcher School of Nursing, a BA from Trinity College and an MS from Saint Michael's College, prepared her for a fruitful and productive career in both nursing and health care administration in Vermont.
She served as a birthing trainer and as a nurse in emergency, psychiatric and hospice settings, and as a home care nurse (Support and Services at Home, SASH). She was medical director at the Lund Family Center, a nurse supervisor at Fanny Allen Outpatient Rehabilitation Center, the CEO of Maple Leaf Farm addiction treatment center and the site manager for CHP Burlington. She also owned her own business, Baby Sense, helping to care for high-needs babies and their parents in the home.
Gladys is survived by her husband, Eric Zelman; daughter Alice and her spouse, Chris Norris; son George Peterson; grandson George Peterson Zelman, who is her adopted son; brother Ed and his spouse, Caroline Dinnany; sister Carol Lippencott and her fiancé, Harvey Portnoy; stepdaughters Anna Zelman and Beth Zelman; and sister-in-law Diane Zelman and her spouse, Michael Chaplin. All of these she loved and touched deeply. She also loved animals and is survived by her sweet dog, Sophie, and cat, Misty. She is predeceased by her son Brian Trevor Peterson and parents, Ed and Gertrude Dinnany.
Her love of the outdoors included skiing, snowshoeing, hiking, diving, snorkeling and white-water rafting. She loved sharing with longtime friend Margaret; going for walks with Jody and their dogs; and laughing hysterically with Eric, Bob and Mary. She loved loving her grandchildren Bella and Brody and working with Eric to raise their adopted son George, who is the capstone to their lives together.
A memorial service will be held on Saturday, February 15, at 1 p.m. at All Saints Episcopal Church in South Burlington, with a reception afterward at the Best Western Conference Center located behind the Windjammer Restaurant. In lieu of flowers, donations may be made to Homeward Bound-Addison County Humane Society (homewardboundanimals.org), the Lund Family Center (lundvt.org) and the Janet S. Munt Family Room (thefamilyroomvt.org).
A lifetime of love and service to others — thousands of others — is something to honor as a model for what one person, any person, can accomplish. Gladys' courage and compassion were beyond words. We feel deep grief, yet we celebrate her passing as she chose, in comfort and surrounded by love.