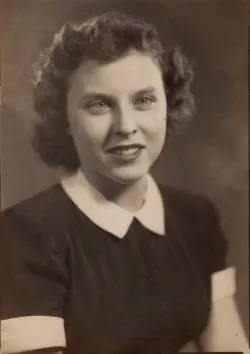 St. Albans - Gladys Mae Clark Menkens, 88, died on December 28, 2017, after a brief illness. A lifelong resident of St. Albans, she was the daughter of the late Merritt and Lillian (Raine) Clark. For many years, Mrs. Menkens was a teacher of second grade at the St. Albans City Elementary School, a career she loved. She was also an avid reader, a lifelong outdoors-woman, and a beloved sister, mother, aunt, and grandmother. In 1952 she married Ed Menkens, who predeceased her on November 5, 2017. Besides her parents, she was predeceased by her brothers, Merritt William Clark, Jr., in 2017, and Theodore Clark, in 1968.
Gladys is survived by her large family, who will miss her dearly: her sisters, Gini Richard, of St. Albans and Jaye Lindner and husband, Dan, of Montpelier; her four children, Paul, of St. Albans; Lea Menkens and Randall Plourde, of Underhill; Beth and Stephen Walsh, of St. Albans; and Anne Menkens and Greg Duyck, of North Carolina; her grandchildren, Ben and Jesse Walsh, of Cambridge; Anna Walsh of Burlington; and Lillian Menkens-Weiler, of North Carolina; and her nieces and nephews, for many of whom she was like a second mother. Gladys also leaves her dear lifelong friend, Jane Domey Brigham. Generations of students will remember her as the one who made each child feel as if they were an important person with great potential to learn and contribute.
The family wishes to thank the staff of Franklin County Rehab Center for their loving care during her brief illness.
In lieu of flowers, please consider donating to the Johnson State College Alumni Association Scholarship Endowment fund at Johnson State College, c/o Alumni Office, 337 College Hill Road, Johnson, Vermont 05656.
Any friends or family who wish to be invited to a May 2018 celebration of Gladys and Ed's lives should email bethwalsh7@gmail.com or send word to Beth Walsh, 114 Fairfield St., St. Albans, VT 05478.
To send the Menkens family a written expression of sympathy or share a memory, please go to her on-line guest book at www.healdfuneralhome.com.