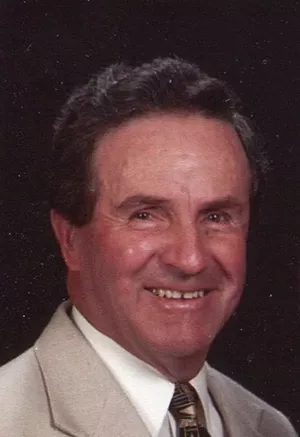 Gilles Joseph Bourbeau, age 81 years, passed away Sunday, January 26, 2014 with his loving family at his side.
He was born in Saint-Félix-de-Kingsey, Quebec, Canada on April 22, 1932, the oldest child of the late Omer & Yvette Bourbeau. He attended school in Quebec until the age of 16 when he and his family moved to Swanton, Vermont where they bought a farm.
In 1956, he was drafted into the U.S. Army; he did his basic training in Fort Carson, Colorado. After basic training he became a gunner with the 56th Field Artillery Battalion in Schwabach, Germany from 1956 – 1958.
On September 1, 1956, before leaving for Germany, he married the love of his life, Georgette (Beaulieu) Bourbeau. After returning from Germany, he and his wife purchased a dairy farm and raised their four children. In 1976, he owned and operated Bourbeau International with his brother Jacques. In 1984, he became a land developer of Pleasant View Estates, Inc., located on Prospect Hill in St. Albans. In 1985, he and his son, Mark, owned and operated GTM Electric Supply Company.
Gilles will be remembered by his family as a role-model for all of them to follow. He was an exemplary husband, father, grandfather and great-grandfather. In addition to being a loving family man, he was a creative and successful businessman. Gilles was well known and respected as a true gentleman who was always willing to help others. In his spare time he enjoyed bowling, playing pool and golfing with friends and especially with his family.
He is survived by his loving wife of 57 years, Georgette Bourbeau; daughter Diane and her husband Steve Forey of Rouses Point, NY; three sons: Richard and his wife Patricia, Alan and his wife Kimberly, Mark and his wife Michelle, all of Swanton; twelve grandchildren: Nicole Bourbeau, Justin Bourbeau and wife Jessica, Eric Bourbeau, Ashleigh Quiroz and husband Orlando, Brittany Bourbeau and her fiancée Steven Lawrence, Ryan Bourbeau, Samantha Forey, Alexandra Forey, Amanda Forey, Daniel Bourbeau, Stephanie Bourbeau, and Christopher Bourbeau; four great grandchildren: Evony, Natalie, Audrey Bourbeau and Asher Lawrence; two brothers: Jacques Bourbeau and his wife Helen of Swanton, Claude Bourbeau and his wife Jeanne of St. Albans; two sisters: Pauline Brodeur and her late husband Armand Brodeur of Swanton, and Michelle Sharp of Vancouver, B.C.; and many nieces, nephews, in-laws and friends.
Gilles was predeceased by his parents and his brother Jean-Louis.
Gilles was a long time member of St. Mary's Roman Catholic Church, (Immaculate Conception Parish), a 3rd and 4th degree member of the Knights of Columbus, Assembly #1149, a member of American Legion, Green Mountain Post #1 and a member of the St. Albans Elks Lodge #1566.
The Liturgy of Christian Burial will be celebrated Saturday February 1, 2014, at 11 a.m. from St. Mary's Roman Catholic Church,(Immaculate Conception Parish), 45 Fairfield St. St. Albans City. Father Brian J. O'Donnell will be the celebrant and homilist. The Rite of Committal and Interment will follow with Military Honors at the Bourbeau Family lot in St. Mary's Cemetery, 65 Canada St., Swanton.. Reception to follow at the St. Albans Elks Lodge #1566 on Gricebrook Road in St. Albans.
Friends may call at The Kidder Memorial Home, 89 Grand Ave., Swanton on Friday January 31, 2014 from 4 to 8 p.m.
From the hearts of Gilles Bourbeau's family, we would like to express our sincere appreciation to the entire staff of Franklin County Rehab Center for their professional and compassionate care of Gilles.
In lieu of flowers, donations can be sent to: Franklin County Rehab Center, LLC, 110 Fairfax St. St. Albans 05478, http://www.franklincountyrehab.com/index.html or to the White River Junction VA Medical Center, 215 North Main St., White River Junction, 05009,www.whiteriver.va.gov
To offer private online condolences please visit: www.kiddermemorialhome.com