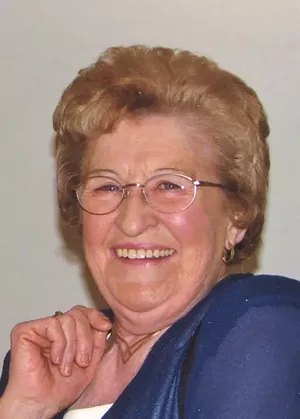 Gilberte Bernadette Jette
Gilberte Bernadette Jette, age 80 years, died late Friday evening November 22, 2013, at her Messenger St. residence with loving family at her side.
Born in Farnham, Quebec Canada on November 9, 1933, she was the daughter of the late Joseph and Evelina (Gendron) Barabe. She attended schools in Canada and on March 26, 1951, was married to Laurent E. Jette who predeceased her on March 25, 2002.
Mrs. Jette was associated for 31 years with the former Fonda Container Corporation retiring on June 16, 1993. In earlier years she along with her husband and family owned and operated a dairy farm in Sheldon Junction. For the past few years she has been a resident of St. Albans City. She has also been a longtime parishioner of The Church of the Nativity of the Blessed Virgin Mary of Swanton and most recently attended St. Mary's Church in St. Albans.
Mrs. Jette will always be remembered as a very hard working lady taking pride in everything that she did. She was a devoted friend and was always there for anyone who needed assistance. She had a great gift for crafting especially knitting, crocheting and quilting.
She leaves her six sons, Jean-Guy and his wife Catherine of Pepperell, Ma, Marc and wife Winona of Berkshire, Raymond of Franklin, Robert and wife Lucy of Sheldon, Rene and wife Lee Ann of St. Albans and Andrew of Sheldon; a brother, Normand Barabe and his wife Denise of Bedford, Quebec; a sister, Therese LaPointe and husband Marcel of Montreal; 15 grandchildren; 10 great grandchildren, several nieces, nephews and many friends.
Besides her husband, she was predeceased by a daughter-in-law, Catherine Jette on April 30, 2011 as well as several brothers and sisters.
The Liturgy of Christian Burial will be celebrated Saturday November 30, 2013, at 11 a.m. from The Church of the Nativity of the Blessed Virgin Mary, 65 Canada St., Swanton. Father Emmanuel I. Ajanma will be the celebrant and homilist. The Rite of Committal and Interment will take place in the Spring at St. Anthony Roman Catholic Cemetery in Sheldon Springs.
Friends may call at The Kidder Memorial Home, 89 Grand Ave., Swanton on Friday from 4 to 7 p.m.