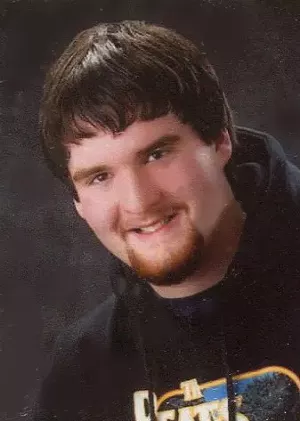 Gerald "Jer Bear" Young, III
Gerald "Jer Bear" Young, III, 23, passed away unexpectedly April 04, 2015.
He was born April 26, 1991, the son of Gerald, Jr., and Clarinda Young. He was a graduate of Missisquoi Valley Union High School, class of 2009, and attended Johnson State College. He worked for his father at Industrial Equipment Services from an early age, and was employed at IBM.
He was predeceased by his maternal grandparents, Lucien and Lauretta Brosseau; an uncle, Robert Langlois, and an aunt, Judy Langlois.
In addition to his parents, he is survived by his sister Gweyn Young and her fiancé, Walter Woodard, and their children Walter and Bella, all of Swanton; his sister Kandace Young and her fiancé, Mike Benoure, both of Highgate; a sister Beth Young and her daughter Jayden, of Swanton; and many aunts, uncles and cousins.
Jerry was kind and selfless. He thought nothing of traveling to NY in the middle of the night to comfort a friend in need. He enjoyed playing Yu-Gi-Oh, traveling as far as Nashville, Charlotte, and Minneapolis to participate in Shonen Jump Championships. He loved chatting with friends, having a gift for conversation that could brighten the darkest mood. Caring, loving and sociable, he will be missed by all who knew him.
Visitation hours will be from 7 to 9 pm, Friday, April 10, 2015, at The Kidder Memorial Home, 89 Grand Ave., Swanton. The Liturgy of Christian Burial will be celebrated on Saturday, April 11 at 11 a.m. from The Church of the Nativity of the Blessed Virgin Mary, 65 Canada St., Swanton. Father Luke P. Austin will be the celebrant and homilist. The Rite of Committal and Interment will be at a later date by the family.
In lieu of flowers, donations can be made to:
Helpguide.org International
1250 Sixth St., Suite 400
Santa Monica, CA 90401
To offer online condolences please visit: www.kiddermemorialhome.com