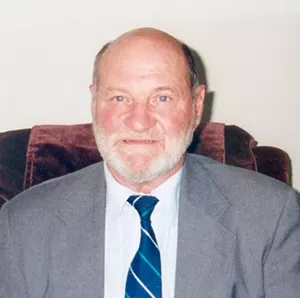 George Roland Boucher, age 79, passed away at the Respite House in Williston, VT on March 27th, 2016 after suffering a stroke. George loved his country and was an avid outdoorsman, he loved gardening, hunting, fishing and was affectionately known as the raspberry man. George was predeceased by his wife Catherine in 2012, his four brothers David, Leo, Raymond, and Roger and his sister Nancy Boucher West. George was born July 5th, 1936 in Lewiston, Maine and graduated from Edward Little High School. In 1955, he joined the US Air Force and eventually was stationed in Vermont. On April 23rd, 1960, he married Cathy Martin at St. Anthony's Parish in Burlington, VT. Cathy and George raised three children in Essex Junction, VT. George was very active in the community, and volunteered his time on many local government issues. He served the Village of Essex Junction in many ways including board memberships on the Chittenden County Metropolitan Planning Organization, Chittenden Solid Waste District, Chairman of the Tri-Community Waste Water Treatment Plant and as a Village Trustee for many years.
George, also known as Boo, and Papa, was very handy and loved to tinker and fix things. He enjoyed many visits back to his home state of Maine and loved fishing with his brothers and extended family there. He also loved to watch college football and was very proud of his football career at Edward Little High School and being named to the all-state team.
George worked for the military most of his life and was a skilled aircraft mechanic and crew chief. After leaving active duty he joined the VT Air National Guard and was very proud to be a Green Mountain Boy. He traveled all over the world during his military service and loved his planes. He retired from the guard in 1992.
George is survived by his son Michael Boucher of Burlington, his son Joseph and daughter-in-law Peggy Boucher of Milton, VT, and his daughter Tina and son-in-law Joseph Bissonette of Underhill, VT. He also leaves behind four granddaughters, Chelsea and Samantha Bissonette, Amelia and Teah Boucher, and a very special great niece Chelsea Martin. George also leaves behind his brother-in-law Wayne Newport of Winooski, VT., nephew Aaron Martin and his wife, Emily of Essex Junction, VT, his niece, Tara Devoid and her husband Matt and his special friend and companion Barbara Mallow.
George will be missed by his sister-in-law Sue Lafountaine, his sister-in-law Delphine, his beloved nieces and nephews, Sue Rae and Brian Craig, Libby Bamford, and Jan and Mary Boucher, all of Bowdoin, ME and Dwayne Boucher and his wife Pam from Ohio. He also leaves behind his sister-in-law Nancy Boucher of Lisbon Falls, ME and his niece Ina Rae along with many nieces, nephews and great nieces and nephews.
Visiting hours will be held on Thursday March 31st, from 5pm to 8pm at Mountain View Chapel, 68 Pinecrest Drive, Essex Jct., VT. A church service will be celebrated at 10:00 am, Friday, April 1st at Calvary Baptist Church, 61 Main Street in Essex Junction, VT.
In lieu of flowers, please honor George's memory by considering a donation to VT Respite House at 99 Allen Brook Road, Williston, VT 05495.