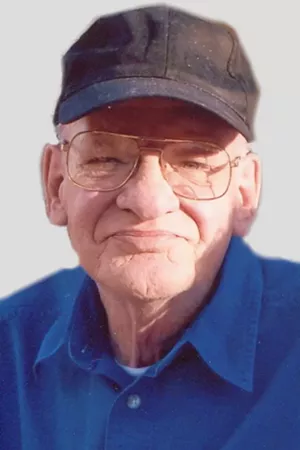 George Henry Foster, Jr., died early Friday morning, July 15, 2016, at Our Lady of the Meadows in Richford with loving family at his side.
Born in Peacham, VT, on July 24, 1934, he was the son of the late George Henry, Sr., and Zerella (Archilles) Shute. He graduated from Peacham Academy and on December 10, 1955, he was married to the former Audrey Crosby who predeceased him on December 19, 2009, following 54 years of marriage.
A carpenter by trade George worked several other jobs in the area including taking meticulous care and maintaining four Swanton cemeteries on a daily basis. His hobbies included woodworking, caneing of chairs, fishing, camping, watching birds and especially spending time with his devoted wife Audie.
George leaves five children, Dana Foster of Swanton, Bonnie Bloniarz and husband Fred of Highgate Springs, Beth Libbey and husband Shane of Highgate, Amy Giroux and husband Robert of Swanton, and Peter Foster and his wife Angela of Highgate Springs; two daughters-in-law, Debbie Foster of Swanton and Linda Foster of S. Hadley MA; grandchildren, Carrie and Chris Hungerford, Sarah, Emily, Katie and Molly Foster; Abigail Foster, Ryan and Sommer Libbey, Joseph Cava, Jason and Amanda Giroux, Ian and Owen Giroux, Corinne and Kassidy Foster, Matt and Amy Boudreau, Sarah, Ashley and Benjamin O'Niell; great grandchildren, Mason and Ethan Hungerford, Talin and Keedin Giroux, Dominic Boudreau, Bennett O'Neill and Jacob Stimson. Also surviving is a brother, Richard Foster of Bennington.
Besides his parents and his wife Audrey, George was predeceased by a son, Kevin Foster and a brother, Robert Foster.
The Foster family would like to extend their sincerest thanks to the management and staff of Our Lady of the Meadows and the St. Joseph's Memory Care Unit, especially Claire Doe, for all the love and support given to George.
A Funeral Service will be held Friday, July 22, 2016, at 2 p.m. from The Swanton Christian Church, Academy St., Swanton Village. Pastor Daniel Brueckner will officiate. Interment will follow at the Foster family lot in Riverside Cemetery.
There will be no public calling hours.
Gifts in George's memory may be made to the Alzheimer's Association of Vermont, 300 Cornerstone Drive, Suite 128, Williston, VT 05495.
Arrangements are under the direction of The Kidder Memorial Home, 89 Grand Ave., Swanton, 05488. 802-868-3331
To offer private online condolences please visit: www.kiddermemorialhome.com