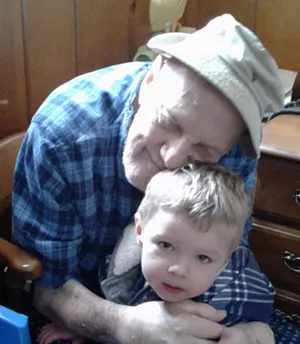 Mr. George Edward Gay, age 92, passed away Tuesday morning, April 25, 2017, at the Northwestern Medical Center. He was born in Swanton on April 28, 1924 to the late Edward and Mabel (Bertrand) Gay. George left Swanton High School in his senior year, March 1943, to enlist in World War II. He was deployed to Italy and was wounded in action February 2, 1944 near Casino, Italy. George was hospitalized for over a year with multiple shrapnel pieces in his chest and heart.
Upon discharge from the service, he was awarded the Purple Heart, Bronze Star, and Unit of Citation. George entered the Engine Service with the Central Vermont Railway on July 4, 1950. He was promoted to Engineer in 1960. He loved his job and never refused a run, but was forced to retire after an Amtrak accident in 1984, when he was injured.
George was a member of the Central Vermont Veterans Association, the American Legion Post #1, the Veterans of Foreign Wars Post #778 in Swanton, a life member of the Disabled American Veterans Chapter #17, the NRA, Franklin County Sportsman's Club, and the North American Hunting Club.
George is survived by his daughter Susan Gay of Windsor, CT, daughter-in-law Karen Gay of Laplatta, MD, his grandchildren Christopher, Jennifer, and Damian. He also leaves his sister Alma Marquette of St. Albans, step-children, Richard Papineau of Roseburg, OR, Marie McKinnon of Lancaster, NH, and Janet Cameron of Alburgh, his special friends and caregivers Pauline Hardy and her companion Ralph Bailey, and his special buddy Brady Balentine.
George was predeceased by his parents, his wife Elaine Gay, a son Stephen Gay, his brother Harold, three sisters Thelma Dunton, Madeline Medlar, and Theresa Ratta, and two brothers-in-law, Raymond Langlois and Gordon Marquette.
A Funeral of Christian Burial will be celebrated Monday, May 1, 2017, at 11:00 AM in the Brady & Levesque Funeral Chapel, 86 South Main Street. The family will receive condolences from 10:00 AM until the time of the funeral. Interment will follow in Riverside Cemetery in Swanton. Online condolences may be shared with his family at the funeral home website: www.bradyandlevesque.com. Arrangements are entrusted to the Brady & Levesque Funeral Home and Commemorative Services.