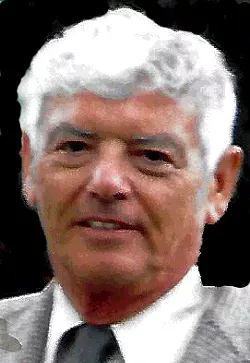 Leo Abair, devoted family man, decorated World War II veteran, and career officer in the Vermont National Guard, passed away peacefully on June 21st at his Broadlake home.
Born on February 16, 1918 in Winooski, Leo was the youngest of the eight children of Edouard and Eva (Langlois) Hebert. Growing up he worked in his father's grocery store while receiving his education at the St. Louis Convent School and Cathedral High School in Burlington. The family's first vehicle was a horse and buggy acquired shortly after Leo was born but the era of invention had begun and their home on Weaver Lane began to fill up with the latest radios, cameras and phonograph as well as traditional musical instruments thanks to his creative older siblings. This fostered a lifelong interest in music and technology that he passed along to his children many of whom are professionally involved in music.
At age sixteen Leo met Mary Elizabeth Leddy of Burlington and upon first sight he told his friend "that's the girl I'm going to marry". Shortly thereafter he lost his beloved mother Eva. On April 13, 1942 the couple was married by Leo's eldest brother the Reverend Edward Hebert in Burlington and moved to Schenectady, NY where Leo worked in tool design for the General Electric Company.
In 1941 Leo was called to active military service in the Army Air Corps. As a civilian, he already held a pilot license through the Citizens Military Program and the Civilian Pilot Training Program. These programs were established to prepare leaders and pilots for the possibility of war.
After entering military service, Leo volunteered for glider pilot training and was soon promoted to Staff Sergeant. Upon completion of glider training Leo entered the newly-formed liaison pilot school where he flew light single-engined aircraft (known as L-Bird). He was assigned to a long range artillery battalion as a Flying Sergeant. His mission was to fly the L-Bird behind enemy lines and direct artillery fire. Leo's unit was assigned to the South Pacific Theater and saw action in every major campaign under General MacArthur.
Leo received a field commission as 2nd Lieutenant during the Battle of New Guinea and the Silver Star for Valor during the landing at Leyte, Philippines Islands. He also received the Air Medal for meritorious service while under enemy fire during action in the Battle for Manila.
After the War Leo returned to Vermont to join Mary and they moved to Fort Ethan Allen with their two small children. In 1945 Leo joined the Vermont Army National Guard (VNG) and remained on flight status during most of his 32 years with the Guard and was rated a Senior Army Aviator amassing over 7,000 flight hours. He served in numerous command and staff positions beginning with the organization and command of the 294th ordinance company and culminating as Army Chief of Staff and Army Assistant Adjutant General. He graduated from many military schools most notably the U.S. Army Command and General Staff College.
Leo will be remembered in the National Guard for many achievements including being the first pilot in the Army Guard, establishing the magazine The Ethan Allen Guardsman, initiating "Operation Bull's-Eye" that allowed deer hunters to sight-in their rifles on National Guard ranges, receiving an excellent rating from U.S.Army every year he served as State Maintenance Officer, and for development of the Rifle Marksmanship Program which led to numerous national awards.
By 1951 the Abair family had outgrown the Fort and moved to Charlotte Street in Burlington. The last of the nine children had arrived by 1959 and the grandchildren started to show up in 1966. The South End of Burlington was an ideal place to raise a large family. There were spacious parks, a skating rink, undeveloped woodland, quiet streets, and plenty of other kids. Their home was the center of activity in the neighborhood affectionately known as "Mud Alley" (now known as "The Five Sisters"). Neighborhood friends, including the Quinns, Howleys, and Longes, flowed in and out of the Abair house. Meals were dispensed, cuts mended, problems shared, music heard, games played, and there was always a lift to the beach or movies for anyone who could fit in the family station wagon. Leo carefully and creatively documented the activities of his growing family with photos and home movies. During this time Leo was promoted a Full Colonel assuming the duties of Army Chief of Staff to the Adjutant General.
In 1971 Leo and Mary were able to fulfill a dream of living on the shores of Lake Champlain and moved to their next home - "Broadlake" in Colchester. Broadlake became another focal point for the family. The grandchildren who were scattered around the area come together there and established life-long friendships. There were (and still are) special events, annual parties, boating and bonfires, all usually involving live music conducted under the watchful eye of the Colonel.
Colonel Abair retired from the VNG in 1977 and in 1982 Leo and Mary established a winter home in Tarpon Springs, Florida. In retirement he was asked by his close friend MG Chad Barrett to help organize the Vermont State Guard (VSG) a group of military veterans officers with the mission of assisting the National Guard during State emergencies and assume the National Guard emergency response mission during periods when the national guard is activated for federal service. Leo retired from the VSG as the Commanding General, in the rank of Major General (VT) in 2000, completing more than 60 years of service to his state and country.
Leo is a life member of the Veterans of Foreign War post 1767, Winooski, VT and of the American Legion Post 91, Colchester, VT. He is past president of the Vermont National Guard Association, the Vermont chapter of the US Army Association, and Vermont State Guard Association.
Leo's natural curiosity and interest in technology brought a parade of the latest innovations into the Abair household through the years. It began with a 12" black and white TV (before Burlington even had a local station) and console radio with a wire recorder at the Fort. On Charlotte Street he moved on to colored TVs, Hi-Fi stereos and Super 8 movie cameras and then continued with cell phones, video cameras, computers and HD TVs at Broadlake. Into his nineties he played on-line games with his grandchildren and kept up with their lives on his iPad, actively using Facebook and Facetime.
One constant in the Abair home was the piano, an instrument he played in Stunt Nite and on the Ticonderoga. While serving our country in the South Pacific and not knowing if he would ever see his home and family again he made himself a promise: if he survived he would buy himself a piano. Upon returning in 1945 and before he had a job he used a large portion of his separation pay to fulfill this promise. Since then the piano has been a central part of all his homes. The use of the instrument was encouraged and certainly contributed to making music a common bond for the family. It seldom remains unused at gatherings.
The years in Florida presented another unique situation for Papa, as he was known to his grandchildren. He and Mary enjoyed many happy years in Tarpon Springs with his three sisters and a brother who also spent the winters there. Family members were always welcomed and took full advantage of the opportunity to spend quality time with Mom and Dad and get to know their aunts and uncles and their families.
In 2008 Leo lost his beloved Mary. Facing the future without her presented the biggest challenge of his life. With tremendous courage and the unfailing support his family he was able to carry on and enjoy his remaining years doing the things he enjoyed with the ones he loved nearby. He stayed witty and sharp until the end, completing crosswords and sudoku puzzles daily. He was also predeceased by his parents, siblings and many dear friends.
Leo leaves his nine devoted children and their spouses: Alan Abair (Lucy), John Abair (Betty), Robert Abair (Betty), Marilee Cain (Bill), Chris Abair, Carol Abair (Joseph Ketcham), David Abair, Mark Abair (Sam), and Philip (Julie). Papa will be greatly missed by fifteen adoring grandchildren: Brian Abair (Michelle), Molly Abair (Dan Marchessault), Michael Abair (Lisa), Heidi Abair, Lee Abair, David Cain (Sandra), Annie Cain, Carrie Abair, Casey Abair, Matthew Ketcham, Ben Abair (Tiffany), Ashlee Abair, Mark Abair Jr. (Lydia), John Abair, and Heather Abair. He also leaves seventeen adoring great grandchildren and special nieces and nephews.
A special thanks to Mark and Sami for the wonderful care and kindness Papa received in his final years which allowed Papa to remain independent and content in his home until his final goodbye.
Leo Abair is a hero in every sense of the word. As a self-made man who attained all he wanted in life he possessed a perfect balance between pride and humility. He inspired us with his ability to overcome hardship and loss and taught us to value loved ones above all else. His generosity was unparalleled and his dedication to Mary and his family will never be forgotten. He counted his blessings every day and we will do the same for being part of his life.
Visiting hours will be on Sunday June 26th 1:00 to 4:00 at LaVigne Funeral Home at 132 Main Street in Winooski. A Mass of Christian Burial will be celebrated on Monday June 27th at 10:00 a.m. at Holy Cross Catholic Church in Colchester. Interment will follow at Resurrection Park Cemetery in South Burlington. In lieu of flowers, donations may be sent to the charity of your choosing. Condolences may be shared at lavignefuneralhome.com