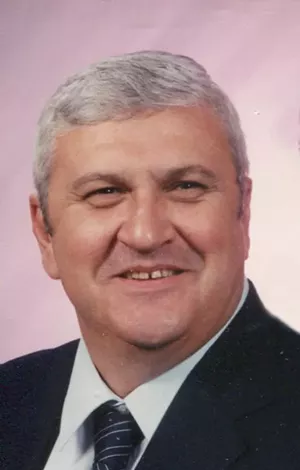 Gary F. Belrose, age 73 years, died Sunday afternoon July 27, 2014, in the Northwestern Medical Center. He was diagnosed with stomach cancer on October, 1, 2013.
Gary was born January 21, 1941, at home in Swanton, the son of the late Louis Charles and Margaret (Longe) Belrose. Where he has been a lifetime resident.
He formally met Andrea M. Ledoux at her brother's wedding in 1961,but they had many conscious passing's and awareness's over the years before. He took her for his lifetime wife on August 24, 1963, which has lasted for more than 50 years. They resided at 13 Platt Street for 44 years where they raised three wonderful sons and shared raising grandsons, Dilon and Jesse until they were about five years old. Moving in 2008 to 13 Andy Avenue, Gary and Andrea spent much of their time as homebodies watching movies, theatre, Netflix and home movies that they had recorded over the years, being the body behind the camera but never in front. They loved going out to eat and also attending many family gatherings. Gary attended Swanton schools and received his GED through BFA-St. Albans in 1975 for which he was very proud. He worked on the Swanton Missile Site and on construction but mostly as a Utility Plant Operator (Boiler Man), from 1964-1980 at the former H.P. Hoods and at IBM from 1980 through 1997. He retired in 1998 leaving behind some special guys.
Gary was a jack-of-all trades and saved many a dollar by figuring out and doing things himself at home. He was very stubborn and what he did not know he became self taught until he got it right.
Gary loved old time country music especially Johnny Cash and Hank Williams Sr,. He loved astronomy, fishing, computer research on every topic thinkable and especially history which was a favorite subject that he enjoyed talking with his brother-in-law Jim. Gary was known as the family historian. He also enjoyed taking home movies, going to the grandkids games, concerts, ballets, musicals and plays. Most enjoyable were his camping days at Shanty Point with his special nephews Pat and Jon and grandkids Dilon and Jesse, teaching them to fish beginning at age three and giving boat rides along the lake enjoying the views and sunsets. One of his pleasures was writing special note cards to those he loved on special occasions.
Besides his wife Andrea of over 50 years, Gary leaves three sons, Eric G. Belrose and partner Sara Stone, David Belrose and Jeffry S. Bellrose and wife Kirsten all of St. Albans. He was blessed with six grandchildren, Dilon and Jesse Cross and their mother Darla Cross, and little brother Parker Stone Belrose; Jeffrey Louis, Hannah Christian and Olivia Ruby Mead Belrose. Gary was very proud of all of his children and grandchildren. Also surviving is his mother-in-law, Hazel Ledoux of St. Albans; twin sisters, Carolyn Callan and husband Peter of Swanton, their sons, Patrick and Jon and their extended families; Carolyn Concannon and husband James of Milton and their daughter Julie and family. Sisters-in-law, Peggy Belrose and husband Will, Rita Ledoux, Karen Jarvis and Companion Ron, Teena Whittier and husband Duane; brother-in-law, Kraig Ledoux and wife Kim; a special adopted daughter Lucy Parah and partner Dave as well as all of their extended families; Last but not least his beloved pal and sweetheart Paprika and his former pets that gave him so much pleasure and many aunts, uncles, nieces, nephews and cousins.
Gary was predeceased by his parents, Margaret and Louis Belrose; father-in-law, Edmund Ledoux; brother, Marvin, nephews, Michael and Tom; brother-in-law, Jim Ledoux and best friends Merrill Corbiere and Ron Parah and a special aunt, Catherine Medor.
Andrea would like to sincerely thank Dr. Audrey Von Lepel for her love, support and professional care, Dr. Dennis Sanders for giving to Gary through chemotherapy the extra time we had, Northwestern Medical Center management and staff for their compassion and care and all of her family that gave support and encouragement helping her to endure this long hard trial.
The Liturgy of Christian Burial will be celebrated Friday August 1, 2014, at 11 a.m. from The Church of the Nativity of the Blessed Virgin Mary, 65 Canada Street Swanton. Father Luke P. Austin will be the celebrant and homilist. The Rite of Committal and Interment will follow at the Belrose family lot in Saint Mary's Roman Catholic Cemetery.
Friends may call at The Kidder Memorial Home, 89 Grand Ave., Swanton on Thursday from 3 to 7 p.m. Father Austin will conduct a Vigil Service beginning at 6:45p.m. Father will also be available at the funeral home following the vigil service to hear private confessions.
.
For those who wish gifts in Gary's memory may be made to Hope Lodge, 237 East Ave., Burlington 05401, Franklin County Humane Society, 30 Sunset Meadows, St. Albans 05478 or to the charity of you choice.
To offer private online condolences please visit: www.kiddermemorialhome.com