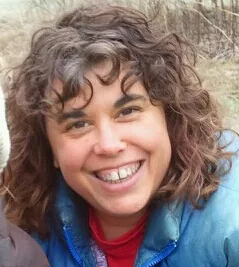 On Wednesday, August 17, Gail Reichstein Rex, of Lincoln, Vermont, age 51, died suddenly of a brain aneurysm. She was a beloved wife, mom, daughter, sister, author, healer, acupuncturist, and friend. She is survived by her husband, Robert Rex; her son, Orion; her parents, Toby and Ronald Reichstein; her sisters, Melissa Rothstein, Alison Reichstein, and Suzanne Davison; and many nieces and nephews who cherish her.
Gail was born and raised in West Caldwell, New Jersey. She attended the University of Pennsylvania and traveled the world on a rich spiritual journey that led her to the Peace Village and Sunray community in Lincoln, VT, where she was a vital member, supporting both the organization and the people with her inspired vision and bright smile. A well-known and beloved member of the five-town area, Gail bridged multiple communities with her grace and compassion.
Gail was an extraordinary practitioner of Eastern traditions, keenly attuned to the sentient intelligence of the natural world. She was passionately committed to healing those around her and restoring the Earth's natural balance and harmony. Gail is treasured by those who knew her; she brought warmth, wisdom, generosity, patience, and kindness to every encounter, no matter how difficult or small. So many of us are better for having known her.
Memorial service and interment will be held at noon on Monday, August 22, at Greenwood Cemetery, located on Burpee Road in Bristol, VT. Friends and loved ones are invited to call on the Reichstein-Rex home immediately following the service.