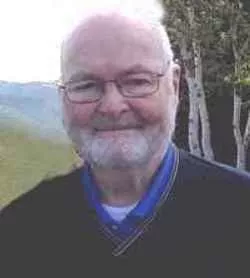 Francis Xavier (Frank, F.X., "Fa") MacNeil
Francis Xavier (Frank, F.X., "Fa") MacNeil died peacefully on Wednesday, July 20 at Northwestern Medical Center. He was surrounded by his family. He is survived by his wife, Dolly, of St. Albans; his daughter, Jennifer, of Rockville, Maryland; and his son, Matthew, of Winooski.
Frank was born in Sydney, Nova Scotia, on November 25, 1930. He was the son of the late Helen (MacLean) and Stephen MacNeil. He graduated from St. Francis Xavier University in 1952 and later returned there to teach Psychology. He also attended the University of Toronto where he obtained a Master's of Divinity while attending St. Basil's Seminary. He was ordained a catholic priest and remained as such for 11 years. In the early 1960s, he continued his academic pursuits at Catholic University in Washington, D.C.
He came to Vermont in 1968 to work as a staff psychologist at Franklin-Grand Isle Mental Health (now NCSS). In 1970, he was made Executive Director, a role in which he remained until his retirement in 1998. Committed to supporting this community, Frank devoted his time to serving on the Boards of Martha's Kitchen and Franklin County Court Diversion while also volunteering for NMC's Meals on Wheels and Franklin County Home Health's Hospice Program. In 2012, NCSS presented him with a lifetime achievement award in appreciation of all his efforts to better lives of others.
Frank was an avid golfer and a lover of all things sport. He played varsity basketball in college and was inducted into the St. FX Hall of Fame along with his teammates from the Canadian Maritime Championship team. He loved to travel, read and have special meals with family and friends. His "highland heart" was always in Cape Breton and he was very in touch with his Scottish roots. Frank was a lifelong catholic and active in the church.
In addition to his immediate family, Frank is survived by his sister, Mary Shea and her husband, Franny of Bedford, MA; his brothers, Al and his wife, Norma, of Calgary, Alberta; Vince of Big Pond, Nova Scotia; Douglas of Sydney, Nova Scotia; Hayes and his wife, Elaine, of Sydney, Nova Scotia; Elwin and his wife, Jane, of Halifax, Nova Scotia and sisters-in-law, Penny Clark of Halifax, Nova Scotia and Madeline Samways of Dartmouth, Nova Scotia. He was predeceased by his sister, Betty and her husband, Nick, and his sisters-in-law, Etta and Florence. Frank is also survived by many beloved nieces and nephews.
Calling hours will be held on Sunday July 24th, from 4-7 PM at the Heald Funeral Home, 87 South Main St., St. Albans.
A funeral mass will be held on Monday, July 25th, at 11:00 AM at Holy Angels Church, 245 Lake Street, St. Albans.
Donations in Frank's memory may be made to Martha's Kitchen, P.O. Box 1561, St. Albans, VT 05478 or the Northwestern Medical Center Auxiliary, 133 Fairfield Street, St. Albans, VT 05478.
Messages of condolence to Frank's family are welcome at www.healdfuneralhome.com.