Courtesy Photo
Frances Caldwell
Frances Elizabeth Sherer Caldwell, 78, of White Plains, N.Y., died on November 25, 2020, in Ramsey, N.J., at the home of her daughter, Juliet. Born on August 30, 1942, in Mount Kisco, N.Y., to Mary Brown Sherer and Clark Grosjean Sherer, Frances grew up in Scarsdale hearing her mother play piano and her father sing along with the Metropolitan Opera broadcasts every Saturday. As she once wrote of her early days learning the piano, "I was galvanized by Bach and Beethoven, and practiced so much my parents would leave the house!"
After earning her BA in music from Smith College ('64, Phi Beta Kappa), where she studied piano with Robert Miller and composition with Alvin Etler, Frances stayed on at Smith for one year as a faculty fellow in music, then entered the master's program at UC Berkeley. She married Peter Devigne Caldwell in September 1966 and moved to Paris, France, where Peter was practicing law. There Frances completed her graduate studies under the guidance of pianist Nadine Vercambre, earning a diplôme supérieur in piano performance from the Conservatoire Européen de Musique de Paris. She spoke beautiful French and remained a lifelong Francophile.
While living in Paris, Frances (or "Francie," as she was known to many) gave birth to three children — Nat, Nelson and Juliet — to whom she imparted a deep love of language and the arts. In 1974 she and Peter returned to the U.S.; they raised their kids in New York City and, later, in Pelham, N.Y. Frances also enjoyed a long career as a piano teacher, holding faculty positions at the School for Strings in Manhattan and at the Music Conservatory of Westchester in White Plains, as well as teaching private lessons to countless students, by whom she was much beloved and respected. She gave solo recitals over the years in the U.S. and France, though chamber music remained closest to her heart — she called it "intimate conversation in a universal language."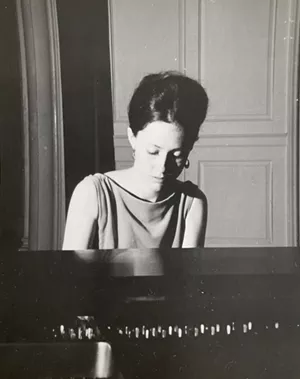 Courtesy Photo
Frances Caldwell
Frances was a splendid musician and a pianist of great feeling and elegance. She loved to interpret the music of Chopin, Ravel, Debussy, Bach, Beethoven, Schumann, Mozart, Brahms, and many other classical and contemporary composers. She also had a razor-sharp intellect and seemingly inexhaustible knowledge of all things literary, etymological, historical and musical; her family often turned to her as an in-house reference as reliable as Merriam-Webster's or the Reader's Encylopedia.
At first blush, Frances presented as proper and "by the book," every bit the straight-A student. But to those who knew her, she was playful and irreverent, even naughty at times, with a streak of unfettered eccentricity. In her soul she was an artist, and every object in her clean, uncluttered apartment was placed with care and aesthetic purpose — a blue-glass bottle, a framed swatch of fabric, a yellow hat perched just so. In movement, she had the poise and confidence of a dancer, which she had been from an early age. And in conversation, she was no shrinking violet — she knew her mind and appreciated that quality in others.
In no particular order, Frances loved raspberries, lilacs and irises. Kandinsky, yoga, Heath Bars and middle-brow mystery novels. Concerts at Carnegie Hall and Bargemusic on the East River. Poached eggs with bacon. The tango, mayonnaise, Law & Order (original series) and fast walks with friends. A satisfyingly messy cheeseburger, a Coke with a wedge of lemon. And most of all her two grandchildren, August and Bernadette, who called her "Nana."
Frances was taken from us too soon. At the time she contracted COVID-19 in March of 2020, she was healthy, active and fully independent. Thanks to the care of many nurses, aides and doctors toiling in the chaotic conditions of the early pandemic — and thanks to the constant personal care of her MD daughter, Juliet — she managed to survive the initial onslaught of the disease. Throughout eight long months fighting COVID's physical aftermath — four in hospital and four at Juliet's home — Frances would call on a favorite quote attributed to Winston Churchill: "If you're going through hell, keep going." She kept going, and she fought hard, every day, to live as long as she possibly could. During her final months at Juliet's, she was grateful and fortunate to be surrounded by the love of her family. She would not have made it as long as she did without her daughter's care and that of many wonderful aides — especially Camille Amorin, who was with her to the last. She also benefited immensely from the hugs and giggles she got every day from her grandson, August, and from a constant stream of love in the form of letters, calls and virtual visits with friends and family.
Frances was predeceased by her sister, Eugénie C. Sherer, and by her former husband, Peter D. Caldwell. She is survived by daughter Juliet and grandson August Caldwell (Ramsey, N.J.); son Nelson, granddaughter Bernadette Caldwell and daughter-in-law Polly Vanderputten (Burlington, Vt.); son Nathaniel (also of Burlington); and many cousins, in-laws and dear friends far and wide. Special mention goes to Sandy Schofield (Charlotte, Vt.); she and Francie were lifelong pals from the day they first met at the age of 16. The family would also like to recognize and thank Thomas Maloney for his loving care of August and the household during Frances' illness.
A memorial service will be held in the future, when gathering is once again safe. If you would like to honor Frances with a gift in her memory, please consider a donation to the Southern Poverty Law Center, Meals on Wheels, World Wildlife Fund or one of the following music programs that were close to her heart: Greenwood Music Camp, Carnegie Hall, Bargemusic or the Smith College Music Department.