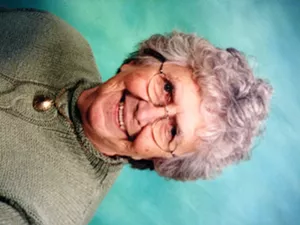 Frances "Frankie" Marie Birdsall
Frances "Frankie" Marie Birdsall, passed away peacefully on Friday, January 1, 2016 after a long illness.
Frankie was born in Philadelphia on Christmas Day in 1925, the youngest of four siblings. She married her husband William (Bill) in 1946. Together they lived in many places, settling in Hinesburg, their home for 50 years.
Frankie was very active in Hinesburg. She began as a secretary in the local school, and from there she took a bold entrepreneurial step to begin the business of Valley Print and Mail. Frankie was one of the first contributors to the Hinesburg Record. Additionally Frankie was active in her church. She sang in the church choir, was the Administrative Assistant to the pastor, helped lead the Sunday School, and was a strong member of the Women's Union. Frankie took great pleasure working in her garden. She also enjoyed sewing, craft work, and she and Bill were members of the square dancing group, the "Hinesburg High-Steppers".
Most of all, Frankie was a wonderful mother of her children: Dan, Ellen and David. She warmly welcomed her children's spouses, Carol, Tom, Bill, and Nancy. She relished her time with her grandchildren: Tom and Molly Williams, Amelia and Jake Birdsall, Corey and Logan Birdsall, her step-grandson William Bosworth, and their spouses, partners, and her eight great-grandchildren. She was always welcoming of her extended NJ family: Richard and Roberta Tate, and Jean Plasket. During the past eleven years, Fran Greenberg offered extraordinary attention and love. In the final few months, the care she received in a private home in Bristol matched the generosity and kindness that Frankie showed so many over her lifetime.
She will be missed and remembered. Please join us in celebrating Frankie's life on Thursday, January 7th at 11:00 am at the United Church of Hinesburg – 10570 Route 116.