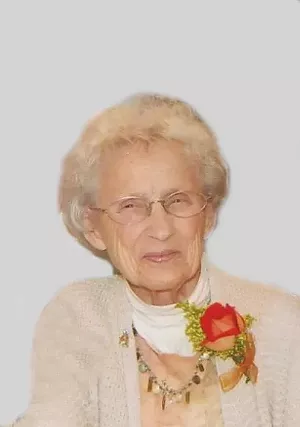 Florence Marie (Bourgeois) Langlois
Mrs. Florence Marie (Bourgeois) Langlois, age 91 years, a lifelong resident of this community died Wednesday afternoon March 19, 2014, at her North Main St. residence with her loving family at her side.
Born in Alburgh on March 29, 1922, she was the daughter of the late Homer and Clarinda (Chausse) Bourgeois. She attended Alburgh schools and on May 31, 1944, she was married to Duane Jules Langlois who predeceased her on January 1, 1999.
Florence will always be remembered as a very loving and devoted wife, mother, grandmother, great grandmother, sister and friend. As the mother of seven children she took on many additional responsibilities to provide for her family. In earlier years she worked as a waitress for the former Giroux's Restaurant in Swanton and the Candle Light Restaurant in Ellenburg Depot, NY. For many years she was also associated with St. Anne's Shrine in Isle La Motte, operating the Shrine cafeteria as well as serving in many other various ways. In 1975 she became the voice behind the Grand Isle County Information Service greeting people with "How may I help You?" In 1995 she began working for the United Way sponsored Foster Grandparent Program at the Alburgh Pre School and Alburgh Elementary School retiring in 2012. Florence was a 50 year member of the American Legion, Creller-Landon Post 60 in Alburgh and from 1966 to 1978 worked as the legion bartender. Florence has always been known for her beautiful smile, loving heart and her high heels!
Florence has been a lifelong and faithful parishioner of St. Amadeus Roman Catholic Church and volunteered for the parish in many ways.
She leaves her seven children and their spouses, The Rev. Mr. Duane Langlois (Permanent Deacon assigned to Holy Angels Parish in St. Albans) and his wife Diane of St. Albans Town, Paul and Debbie Langlois of Isle La Motte, Mark and Candy Langlois of Kissimmee, FL, Bernice and Bobby Hall, Brian and Carla Langlois, Lois and Louie Raiche and Kent Langlois and Tiffany Yandow all of Alburgh; her sister, Jeannette Bruley of St. Albans City, 16 grandchildren, 21 great grandchildren and many nieces and nephews.
Besides her parents and husband, Florence was predeceased by three brothers and four sisters.