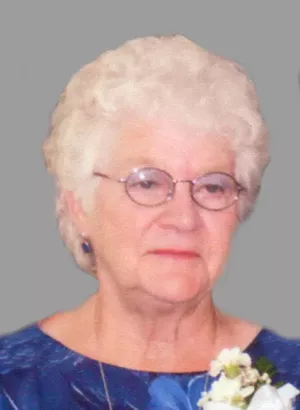 Flora Bell Bovat, age 91 years, died late Tuesday evening, September 15, 2015, in the Northwestern Medical Center with loving family at her side.
Born in Fairfield on, April 29, 1924, she was the daughter of the late Clyde and Lula (Elwood) Abell. She attended the Chester A. Arthur School in Fairfield and on, June 7, 1943, was married to Aldufph Spencer "Slim" Bovat who predeceased her on May 19, 2009. Together they owned and operated a dairy farm in Fairfield for nearly 30 years. In earlier years Flora worked at the Jesse Weldon Theater, Railroad Restaurant, H.P. Hood and for 10 years at the former Union Carbide Corporation.
Flora leaves four son, Gerald and wife Kathryn of Swanton, Clyde and wife Maryann of St. George, James of Sheldon and Daniel and wife Lise Gagner of St. Albans; five daughters, Donna Chitty of S. Carolina, Marilyn Eberhardt and husband James Waite of Swanton, Linda Cross of Jericho, Lena Garceau and husband Alan of St. Albans and Janet Larose of Enosburgh; a sister, Ruby Gratton of N. Carolina, sister-in-law Theresa Knowles of Charlotte, VT; 26 grandchildren; 30 great grandchildren; one great great grandson; an "adopted daughter", Pam Pacheco of Albuquerque, New Mexico; a special friend and big sister, Sally Boudreau of Franklin as well as many nieces and nephews.
In addition to her parents and husband Slim, Flora was predeceased by a grandson, Timothy Joseph Bovat on, February 28, 2000; two half-brothers, Earl Elwood and Wayne Abell and a half- sister, Doris Elwood.
The Liturgy of Christian Burial will be celebrated Saturday, September 19, 2015 at 10 a.m. from The Church of the Nativity of the Blessed Virgin Mary, 65 Canada St., Swanton. Father Luke P. Austin will officiate. The Rite of Committal and Interment will follow at the Bovat family lot in Mount Calvary Cemetery, St. Albans.
Friends may call at The Kidder Memorial Home, 89 Grand Ave., Swanton on Friday from 5 to 8 p.m. Father Austin will conduct a vigil service at 7:45 p.m. and remain after for the Sacrament of Reconciliation.
Gifts in Flora's memory may be made to the Samaritan House, Inc., In memory of Tim Bovat, 20 Kingman St. #1, St. Albans 0578.
To offer private online condolences please visit: www.kiddermemorialhome.com