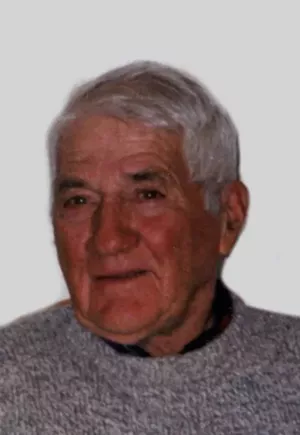 Fernand Julian Dupere, age 91 years, a longtime Alburgh resident died Tuesday afternoon, July 9, 2013 in the Franklin County Rehab Center with loving family at his side.
Born in Bromptonville, Quebec Canada on December 19, 1921, he was the son of the late Joseph and Esmeralda (Godbout) Dupere. On June 8, 1944, he married the former Agnes Jerry who survives him. For most of his working life, Mr. Dupere owned and operated several area dairy farms and was very involved in logging. He also was associated for several years as groundskeeper for Saint Anne's Shrine in Isle La Motte.
He will be remembered by all who knew him to be an avid fisherman who also enjoyed his pipe, drinking Pepsi and reading western novels. He was a longtime parishioner of Saint Amadeus Parish in Alburgh and regularly attended Saint Joseph's Mission in Isle La Motte.
In addition to Agnes his wife of 69 years, Mr. Dupere leaves three sons and their wives, Kenneth and Veronica Dupere of Champlain, NY, Fernand Jr. and Cynthia Dupere of Southampton, MA and Dennis and Diane Dupere of St. Albans, VT; two daughters and their husbands, Marie and John Quain of Rouses Point, NY and Jeanette and Donald Pageau of Merrill, NY; 13 grandchildren, Bridget Graham, Megan Quain, Michele Durocher, Lt. Col James, Jeffrey and Jacqueline Gonyo, Jennifer Bouzidane, Russell, Adam, Jesse, Christopher, Jason Dupere and Amber Bogacz; three, step-grandchildren, Heather Gaebel, Christopher Pageau and Michelle Gamache; two sisters-in-law, Ellen Jerry of Northfield, VT and Rita Jerry of Sun City, AZ; 20 great grandchildren and several nieces and nephews.
He was predeceased by a son Rosaire Dupere in February of 1962; four sisters, Mary Jane Valliere, Olivet Brassard, Felecia Calarco and Madeline Tafflin; three brothers, Maurice, Oscar and Camile Dupere and two very special fishing friends, Arthur and Stanley Aylward.
The Liturgy of Christian Burial will be celebrated Saturday July 13, 2013, at 11 a.m. from the chapel at Saint Anne's Shrine, 92 Shrine Road, Isle La Motte. Father Lawrence P. Ridgley, pastor of the Lake Champlain Island Roman Catholic Parish will be the celebrant and homilist. The Rite of Committal and Interment will follow at the Dupere family lot in St. Amadeus Cemetery, Alburgh.
Friends may call at The Kidder Memorial Home, 89 Grand Ave., Swanton on Friday from 6 to 8 p.m.