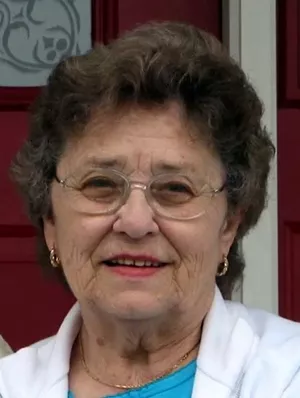 Mrs. Eunice Messier Benham, age 83, passed away at her home, November 25, 2016. She was born in Franklin, July 11, 1933 daughter of the late Gordon and Freda (Clapper) Messier. She was married to Carl D. Benham, Jr., May 26, 1966. Mr. Benham predeceased her December 4, 1993. Eunice worked for many years at Union Carbide, and later at Fonda Container Corporation. She enjoyed working in her flower beds, completing puzzles, reading, crocheting, cross stitching, television, and spending time with her family and friends. She also enjoyed her Lunchtime Ladies Club.
Eunice is survived by her three sons, James Benham and his wife Julie of St. Albans, Randy Cox and his wife Norma of Spring Hill, FL, Kelly Cox and his wife Sonja of Swanton, her daughter Sharon Harvey and her husband James of Jacksonville, FL, her brother James Messier and his wife Marguerite of Sheldon, 14 grandchildren, 19 great-grandchildren, several nieces and nephews. Besides her parents and husband Carl, Eunice was predeceased by her sisters Shirley Cantell and Janet Harris.
A Funeral of Christian Burial will be held Wednesday, November 30, 2016 at 10:00 AM in the Brady & Levesque Funeral Chapel. There will be no public visiting hours. Interment will be in the Benham family lot in St. Anthony's Cemetery in Sheldon Springs. Memorials may be made to the Disabled American Veterans, 215 North Main Street, White River Junction, VT 05001. Online condolences may be shared with her family at the funeral home website: www.bradyandlevesque.com. Arrangements are entrusted to the Brady & Levesque Funeral Home and Commemorative Services.