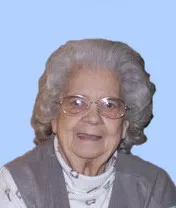 Eugenia Veronica Norcross Hubbard
Eugenia Veronica Norcross Hubbard, age 84 years, died peacefully on
Thursday, July 16 at Franklin County Rehab with her loving family by her side.
Eugenia was born in St. Albans, Vermont on March 31, 1931. She was the daughter of the late Lillian Peters Norcross and Otis Norcross. She attended school at Holy Angels Parish in St. Albans, VT. She married George Folsom Hubbard on October 30, 1948. Together they raised three children on Hubbard Acres Farm on the Highgate Road in Swanton for over forty years.
Eugenia's generosity and love for others was her greatest gift to her husband, family and friends. She is survived by daughters and son-in-laws, Betty and Andy Finelli, Mary and David Wood, and son and daughter-in-law, David and Carol Hubbard all of Swanton.
Eugenia felt blessed by her seven grandchildren which included; Angie Finelli Regan, Brad Finelli, Sarah Wood Nielsen, Dan Wood, Matthew Hubbard, Melissa Hubbard Larose, Erin Hubbard Gagne, and eighteen great-grandchildren which included; Zachary, Ethan, and Alivia Regan, Avery, Madison, and Jacob Finelli, Cameron, and Connor Nielsen, Gavin and Ava Hubbard, Drew, and Stella Wood, Parker, Hunter, Burke, and Tatum Larose, Jackson, and Oliver Gagne. He is also survived by an adoptive grandchild, Jessica Jettie Dittmar.
Eugenia's survivors include her sister, Mildred Shepard, brothers William Norcross and wife, Althea, Kenneth Norcross and his wife, Gloria and many nieces and nephews.
Besides her husband George, Eugenia was predeceased by her sisters, Rita Norcross Goodenough, Leona Norcross Hemingway Young, Marion Norcross Myers, and brother, Lawrence Norcross.
Eugenia's family would like to extend their appreciation to all who have provided exceptional care for Eugenia during the last several years Home Health, Holiday House, NMC, UVM Medical Center, and Franklin County Rehab Providers.
A Funeral Service will be held Monday, July 20, 2015 at 4 p.m. from The Kidder Memorial Home, 89 Grand Avenue, Swanton. Father Luke P. Austin will officiate. The Rite of Committal and Interment will follow at the Hubbard family lot in Riverside Cemetery.
Friends may call at the funeral home on Monday from 1 p.m. until the hour of the service.
In lieu of flowers the family request donations be made to Franklin County Home Health, Holiday House Activity Center, or the Vermont Association for the Blind and Visually Impaired.