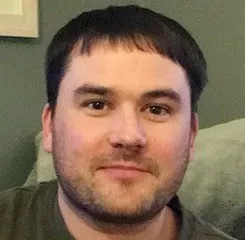 Ethan Wallis Townsend, of Burlington, Vt., and Bozeman, Mont., passed away unexpectedly on April 4, 2020, in Longmont, Colo. We are heartbroken. Ethan left us far too early and will be deeply missed.
Ethan was born December 29, 1981, in Northampton, Mass., to Marybeth Kearney Blakeney and Glenn Wallis Townsend. He is survived by his loving family; parents Jim and Marybeth Blakeney; brother Adrian Seth Townsend (wife Dixie Lee and children Meara, Cailan, Tori, Adrian and Odin ); sister Acacia Maris Blakeney (partner Jay Brauch); stepmother Jeannie Martin Townsend; and grandfather Matthew J. Kearney Jr. He was predeceased by his father, Glenn Wallis Townsend; his brother Craig Martin; and his grandparents Ray and Van Blakeney, Moira Waldron Kearney, and Don and Polly Townsend. He is also survived by many, many dear friends and extended family.
Ethan was a special person. He loved all animals, and all animals loved him, especially dogs. He had recently returned to school, studying for his animal behavior certification. He touched many lives and brought great joy to all who knew him. We will all hold him close to our hearts forever.
Donations in Ethan's name may be made to Best Friends Animal Society. Go to bestfriends.org to make a donation. Ethan's Montana family celebrated him with a memorial gathering on April 6, on Pete's Hill in Bozeman. Social distancing prevented many from attending. That memorial can be viewed at the Facebook page Always Ethan Always. We will wait to have his Vermont celebration when COVID-19 precautions are lifted. Look for an announcement at a later date. Until then, share great stories and many laughs with each other, as Ethan would have.