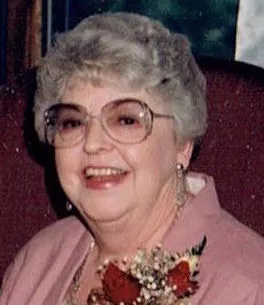 Mrs. Ernestine C. Trombly, age 92, passed away Friday morning, January 13, 2017, at the Holiday House with her family by her side. She was born December 26, 1924 in Essex Jct., daughter of the late Aldie J. and Celia B. (Dague) Couture. She married Michael E. Trombly June 12, 1943. Ernestine was an avid seamstress. She enjoyed skating, square dancing, was very artistic and enjoyed crafts such as cross stitch and painting. She was happiest when surrounded by her family. She was a member of the American Legion Auxiliary Unit #1 and the VFW Auxiliary Unit #758.
Aside from her parents, she was predeceased by her husband of almost 65 years, Michael Trombly, who passed away on January 27, 2008; her brothers Harold, Donald and Merton Couture, and her sisters, Margaret Bassett, Amelia Leclerc, Dorothy Gore, Viola Yandow, Violet Navaratil, and Doris Wright.
Ernestine is survived by her daughters Valerie Brown and her husband Lynwood and Rebecca Trombly of St. Albans; her grandchildren Michele Sullivan of Cohasset, MA; Christine Stevens and her husband Scott of Pasadena, MD; John Sullivan and his wife Angela of Spanish Fort, AL;
and Jason Whalon of St. Albans and his fiancé Nathalie Audette; 6 great-grandchildren, 1 great-great-granddaughter, and several nieces and nephews.
A Mass of Christian Burial will be celebrated Friday, January 20, 2017 at 10:00 AM in Holy Angels Church. The family will receive condolences at the Brady & Levesque Funeral Home, 86 South Main St., St. Albans, on Thursday evening from 4:00 to 7:00 PM. As an alternative to flowers, memorials may be made to the Holiday House, 642 Sheldon Road, St. Albans, VT 05478, or to the Franklin County Home Health Agency, 3 Home Health Circle, St. Albans, VT 05478. Online condolences and memories may be shared with her family at the funeral home website: www.bradyandlevesque.com. Arrangements are entrusted to the Brady & Levesque Funeral Home and Commemorative Services.