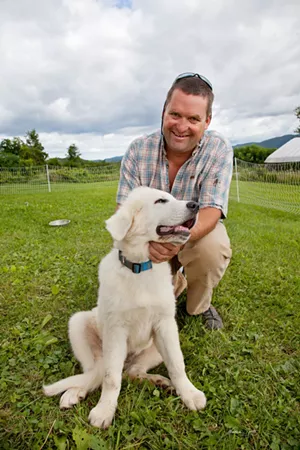 Courtesy of Natalie Stultz
Eric Woodman Rozendaal
Starksboro
Eric Woodman Rozendaal left this world, his family and countless friends far too soon. He was vacationing in the Bahamas with his beloved wife, Keenann, and their adored son, Hans, when he collapsed and died after going on a morning run. Eric was 51 years old.
Although a true Vermonter, Eric was born in Texas on April 26, 1967, while his father, Jan, was training for the Vermont Air National Guard. Perhaps it was fitting that Eric was born in Texas, as he was a big man with a Texas-size smile and laugh. Eric is the son of Jan and Nancy (Strakosch) Rozendaal. Tragically, Eric lost his mother when he was only 3 years old. During that difficult time, Eric was cared for by David and Paige Stackpole of Stowe, before his father married Mary Jane (Corley) Rozendaal. The new family initially lived at the Malletts Bay Club in Colchester, where Eric requested "a brother, a sister and to live in a wooden house." Within three years, he had all three with the arrival of Steven and Kara and then the move to the family home on Spear Street in South Burlington that remains the home of his parents and the constant gathering place for the Rozendaal family.
Eric went through the South Burlington school system, where he was a member of state championship soccer, ski and golf teams and voted "best dressed" senior year. He then graduated with an associate's degree from Champlain College. After Champlain, Eric headed west and attended the University of Utah, where he attained his bachelor's degree despite spending most of his time on the ski slopes or at Sigma Alpha Epsilon parties.
Upon graduation, Eric entered the Peace Corps and spent two years in Guatemala, where he learned what he called "farm Spanish" and was introduced to organic agriculture. He spent most of his service introducing organic methods to the heavily chemical dependent Guatemalan coffee farmers. This was a very rewarding, challenging and formative experience for Eric, and it was the time where his life path became clear to him.
Despite claiming, "Dad, I'm never coming back east," he did return to his roots and spent a year learning organic growing from the movement's father, Eliot Coleman, on his farm in Maine. After, Eric returned to Burlington and became one of the earliest farmers at the Intervale. He was growing organic vegetables including, remarkably, artichokes, for which he was featured in the Burlington Free Press for his ingenuity and creativity. Eric truly was one of the forefathers of the farm-to-table movement, starting with family dinners on Spear Street.
Eric met fellow farmer Julie Rubaud during his time at the Intervale, and the two became partners. They produced not only wonderful vegetables but also a wonderful daughter in Louissa Rozendaal — the light of Eric's life. Eric and Julie purchased a 108-acre part of the former Cota farm in Starksboro from the Vermont Land Trust in 2001 and began their business growing organic plants and vegetables. The farm grew; however, Eric and Julie grew apart, and she left to establish her own business, Red Wagon Plants in Hinesburg.
In 2005, Eric met Keenann Kuiper, and his entire world changed. A man who boldly stated he did not believe in the institution of marriage was on his knee offering a ring to his love within months. Marrying Keenann was something Eric was very quick to say was the best thing that ever happened to him. Rockville Market Farm quickly became a serious force in the Burlington-area farm and food community. Their stand is a fixture at the Burlington Farmers Market, and Eric's Eggs, Keen's Greens and their delicious produce are found in many local markets including Healthy Living Market & Café and City Market, Onion River Co-op, as well as in many local restaurants, such as his personal favorite, Penny Cluse Café, where he loved visiting with Maura and Charles. He also delivered to many institutional kitchens, notably the University of Vermont Medical Center, which he was very proud of, as he deeply believed in the healing powers of good food.
Eric and Keenann welcomed Hans William Rozendaal into their lives in September of 2008. Eric loved golfing with his son at Cedar Knoll and spending time alone together while Keenann worked as a registered nurse in the Cardiology Department of the University of Vermont Medical Center. Eric also loved the way Hans and his cousin Wyatt were "brother cousins" (a term he coined), and he adored the bond the two boys have.
Eric's spirit, joy for life, smile and heart are most evident in his beautiful daughter, Louissa. Eric and Louissa shared a special relationship, and Eric was so proud of her. He lived vicariously through "Kid Lou" as she experienced college at Western State Colorado University and as she spent a semester abroad in Vietnam. He visited her in Colorado to ski and hang out multiple times, and he treasured these visits.
This bare outline of Eric's life does not begin to convey the force of his personality, his enthusiasm for life, and his love of food and drink and the companionship of his family and many friends. He was proud to be a farmer but described himself as an "agripreneur," always eager to try something new and different. He was an early proponent of greenhouse growing and preserving his primary crop, butternut squash, to sell throughout the winter. At his market stand, he introduced his butternut squash and chocolate beet doughnuts, gorditas from the grill expertly cooked by his dear friend Pete Fortuna, and watermelon water. He ventured south to Brooklyn, N.Y. ("Dad, there's 9 million people down there") and established a successful stand at the huge food vendor center at Smorgasburg selling Vermont maple lemonade and his now-famous doughnuts. Of course, Eric soon had celebrity status in Brooklyn as he does in Vermont due to the unavoidable draw of his wonderful personality.
Eric always insisted on making his own deliveries so he could meet and get to know the restaurant owners and buyers of his goods. As a result of this consistent personal contact and his bigger-than-life personality, he was widely known throughout the Burlington food community. To know Eric was to love him, and he had a special knack for making everyone feel as if they were one of his dearest friends. His family is grateful for the outpouring of condolences and love, and the sharing of all of the wonderful stories of how Eric touched their lives. Eric's life was far too big for any one person to know how far-reaching his impact was, and these stories from near and far give us further love for, and insight into, Eric. The family would also like to express appreciation for the lovely piece written by Sally Pollak which can be found online in Seven Days.
Eric is survived by his loving wife, Keenann; his adoring daughter, Louissa; and his sweet son, Hans; as well as his proud father, Jan, and mother, Mary Jane Rozendaal. Eric was extremely close to his sister Kara Hankes (husband Matt Hankes) and his brother Steven (wife Elise Rozendaal). Keenann's two boys, Niles and Harry Fromm, were also like sons to Eric. Also missing their beloved uncle are Kara's three children, Katherine, Lily and Wyatt Hankes; and Steven's two children, Noa and J.P. Rozendaal. Like family to Eric was his wonderful farm crew; Walter and Marvin Pec Ticun of Guatemala; Tenzin Tsamchok of Tibet; John Sheehan, and neighbor Ralph Cota of Starksboro; as well as his canine loves, Scuba, Dani and Emmet.
A celebration of Eric's incredible life will take place at his beloved home at Rockville Market Farm (205 Cemetery Road, Starksboro, VT) on the 12th of August, 2018, at 1 p.m.