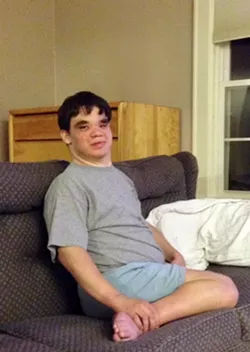 Eren Dylan Dubé, 28, passed away in his sleep on February 23, 2017 at the home of his loving care-giver Nadia Leon.
Eren was born in Berlin, VT on May 24, 1988. He was the son of Elden Dubé of Montpelier, VT and Rebecca Johnston of Essex Jct., VT.
Eren is survived by his sister Mattie, his brother Samuel, his maternal grandparents, Robert and Stephanie Johnston of Strafford, VT and many uncles, aunts, and cousins. Eren was pre-deceased by his paternal grandparents, Siméon and Mattie Dubé of Madawaska, ME.
Eren was born with developmental disabilities and although he lived a short and challenged life, his life was full of love, smiles, happiness and hugs- especially hugs!
Many people crossed Eren's path, deeply enriching his life, as well as he impacting theirs. Eren's family would like to thank them for their accepting and assimilating him into their everyday lives with respect and dignity that all individuals, no matter the circumstances, deserve. Our thanks go out to the staff and volunteers at the local hospitals; Family Center of Washington County; Washington County Mental Health Services; teachers and staff in the Montpelier School System (UES, MSMS, MHS); coaches and partners of MPS Unified Sports, Special Olympics and the extremely dedicated, caring and loving personal care assistants.
In lieu of flowers, contributions of cash, participation or volunteering can be made in Eren's name to any of the organizations listed above or to any other deserving entity personal to you.
A memorial Mass in Eren's memory will be celebrated on May 24, 2017 at St. Augustine's Catholic Church in Montpelier, VT.