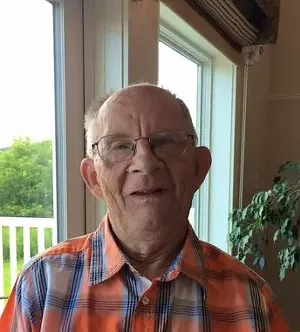 Courtesy Photo
Emerson Blaisdell
Emerson Frank Blaisdell, age 85, passed away on Saturday, December 19, 2020, at the Brownway Residence in Enosburg Falls of natural causes.
He was born on November 3, 1935, in Fairfax, Vt., to the late Willard Henry and Izola Ethelyn (Spaulding) Blaisdell.
He was the oldest child of six. He attended schools in Enosburg Falls. His working years were spent helping Tom and Eva Lancaster on their farm, which he found was suitable to him and his abilities and which he enjoyed.
Emerson is survived by his siblings: Sandra and Robert Lemnah, Kermit and Lois Blaisdell, Patricia Ross, and Deborah and Alan Grandshaw; seven nieces and one nephew: Elizabeth and Stephen Hu, Alisha and Michael Adams, Anissa and Christopher Seguin, Alexa Ross, Aneda Ross, Jesse Grandshaw, Rebekah and Christopher Simays, and Sarah Blaisdell; 10 great-nieces and 11 great-nephews; and three great-great-nieces and three great-great-nephews. He is also survived by his special cousin Eva Lancaster. Besides his parents, he was predeceased by his brother Dean Willard Blaisdell in 1959, brother-in-law Ernest Eugene Ross in 2011, and nieces Jennifer Jean Lemnah in 1966 and April Dawn Ross in 1968. He was also predeceased by his cousin Eva's husband, Tom Lancaster, in 2015.
In the last five-plus years, Emerson has been at Brownway in Enosburg Falls. His family appreciates the wonderful care and interest all the caregivers took involving Emerson. He was very, very happy there, and the caregivers were very attentive. We, his family, cannot say enough good about the care that we experienced for Emerson. Emerson enjoyed and was very pleased with all the cards he received on his 85th birthday in November. He appreciated knowing that people thought about him.
Emerson's family will be holding his life celebration in the spring of 2021.
For those who wish, contributions in Emerson's memory may be made to the Enosburgh Ambulance Service, 83 Sampsonville Rd., Enosburg Falls, VT 05450.
Goss Life Celebration Homes is the area's exclusive provider of life celebration events. Please visit our website to share condolences, photos and favorite memories at gossfs.com.