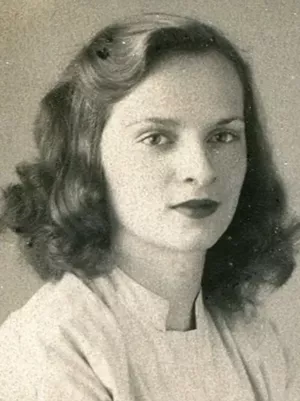 Elizabeth V. Conte passed away Wednesday evening, June 18, 2014 at Fletcher Allen Health Care in Burlington.
Mrs. Conte was born in St. Albans, February 9, 1927 the only child of Frederick W. and Lucia May (Wilder) Van Allen. A 1944 graduate of Swanton High School, she went on to receive her Bachelor of Arts degree in 1948 from Middlebury College. She belonged to the Phi Mu Sorority and played college basketball. Following graduation from Middlebury College she worked with Social Rehabilitative Services in Boston, MA and later with the Burns Detective Agency in Boston.
On September 11, 1949 she married Charles J. Conte. Together they made their home and raised their family in Swanton. Liz, as she was known by her friends, served for 33 years as the Administrative Assistant to the Superintendent of Schools for the Northwestern Supervisory Union in Swanton. Liz was an accomplished classical pianist. She accompanied her husband, Charles during his operatic career and served as the organist for over 22 years at the Holy Trinity Episcopal Church. She had been a member of the Order of Eastern Star and served as organist for the State Association. Liz was an avid reader and skilled knitter. She loved poetry and crossword puzzles and had a keen ability to solve them easily. She spent years researching the Conte and Van Allen genealogy and created multiple books for each of her children and grandchildren as well as extended family.
Elizabeth is survived by her devoted and loving husband of nearly 65 years, Charles J. Conte. She is predeceased by her eldest son, Dr. Michael V. Conte on August 10, 2008. She is survived by her daughter Susan and her children, Maia and Matt and his wife Liz and their child Emma; she is also survived by her son Chris and his wife Gale and their children, Kristin and Lauren; and she is survived by her youngest daughter, Nina. She also leaves dear friends and special extended family members.
Funeral services will be held at the Kidder Memorial Home on Friday, June 27, 2014 at 1:30 p.m.
Private interment will be at the convenience of the family. There will be no calling hours.
Gifts in Mrs. Conte's memory may be made to the charity of one's choice.
Arrangements are under the direction of the Kidder Memorial Home, 89 Grand Avenue, Swanton, VT 05488
To offer private online condolences please visit: www.kiddermemorialhome.com