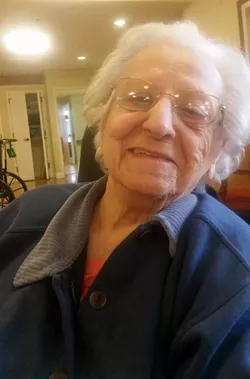 Lifelong educator, activist, artist, and beloved mother Elizabeth Bardagjy Stambolian died Saturday, May 14, 2016 at Starr Farm Nursing Center.
A New Jersey native, Betty moved to Vermont in 1997 to live near her daughters Phyllis and Janet Stambolian of Burlington. She is survived by them, her grandchildren Jesse, Gabriel, and Alexa Cole, her brothers Andrew and Robert Bardagjy, sisters-in-law Helen and Polly, nieces, nephews, and a very large extended family that stretches from coast-to-coast and across many generations.
A fierce and devoted advocate for social and racial justice, a lover of literature and many cultures, Betty taught high school English for 25 years in Madison and Summit, New Jersey, including 17 years as the NJ Liaison to the National Council of Teachers of English Board of Directors. She served on the NCTE Task Force on Race, and in 1966, chaired an NCTE panel that acted to prohibit segregated affiliates of the organization. After her retirement from teaching, she worked on the staff of the Vocational Education Resource Center at Rutgers University. Her final professional position as the Equity Coordinator in the NJ Department of Education's Vocational Division from 1984-1990 endures as one of her most significant contributions. She knew that by administering the award of grant money for Sex Equity and Single Parent/Homemaker programs under the Carl Perkins Act, she directly impacted women trying to improve their lives.
While living in Pennsylvania, she served on the Bucks County Alliance for Nuclear Disarmament, as Democratic Committeewoman, and as a docent in the James Michener Art Museum in Doylestown. A ceramic artist and poet, she had a lifelong love affair with words, clay, and literature. Betty was an avid editor and honest critic of the written word. After moving to Vermont, she worked on many campaigns for Bernie Sanders and continued her advocacy work to protect and improve the quality of life for elders through activities with the Council on Vermont Elders/Savvy Seniors program and as VT State President of AARP in the late 1990's.
Most importantly, Betty's life and legacy was shaped by her deep devotion and commitment to her family. Betty's generosity knew no bounds, and a strong sense of self remained central to her identity all her days. She had very definite opinions about most everything, and made sure that these were well-known; her standards for everyone, particularly herself, were very high; her wit and feisty attitude stayed with her throughout her life. The loving kindness toward her by the staff at Starr Farm Nursing Center brought joy, peace, and a sense of community that impacted her deeply. Our family thanks everyone at Starr Farm including Dr. Jaina Clough and the staff of Allenwood/Pillsbury South for their incredible support while Betty was a resident there.
A Celebration of Betty's Life will be held on June 12th at 3 pm at the First Unitarian Universalist Society, 152 Pearl Street, Burlington, VT 05401. In lieu of flowers, please send a donation to The UVM Lane Series in Betty's honor, either by check or online at https://alum.uvm.edu/giving/laneseries/.