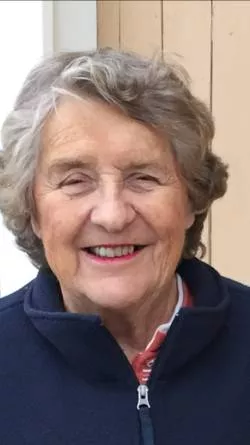 Eleanor W. O'Brien a lifelong resident of the area passed away, Thursday, May 18th, 2017, at the McClure Miller Respite House with her loving family at her side.
Born in St. Albans, on July 6th, 1928, the daughter of the late Joseph and Gladys (Allard) Walsh. Eleanor was 88 years old but forever 39 to family and friends.
Eleanor was a graduate of Saint Mary's High School and went on to New York Institute of Dietetics in New York City. She served her internship at the Bishop Degoesbriand Hospital in Burlington.
In 1954, Eleanor married John G. O'Brien, who preceded her in death in 1990.
Eleanor went on to work as a dietician and assistant chef at the Veterans Hospital in White River Junction for 7 years and also worked part-time at Kerbs Memorial Hospital. She then opened and managed the school hot lunch program at BFA from 1964 to 1974. In 1974, she continued as dietician at the Saint Albans Hospital and then became dietician for the Northwestern Medical Center, until she retired in 1992.
Following retirement, she volunteered at the Northwestern Medical Center Surgical Services Unit, and also at Americorps for one year.
Eleanor was a devout member of Saint Mary's Church, where she served on the Holy Cross Cemetery Committee, was a member of the Autonoe Bridge Club and Green Mountain Post # 1, American Legion Auxiliary and was a regular member of several morning coffee groups. She enjoyed playing bridge, knitting, reading and traveling with family and friends to Maine.
Survivors include her family, daughter and son-in-law Katy and Bruce Thompson; Cherished grandchildren, Britney and Derek John along with her four-legged companion, Sidney, as well as her brothers, Tom, Bill (Judy) and Moe (Barbara).
She is also survived by special nephews (sons by heart) and their families, Joseph (Diane) Walsh, Jim (Dale) Walsh, John (Karen) Walsh and Jeff (Lori)Walsh and a special cousin, E. Michael Walsh and several cousins, nieces and nephews. She is also leaving 2 lifelong friends, Claire Handy and Ann Fisher, along with her knitting buddy, Sarah.
In addition to her parents and husband, Eleanor was pre-deceased by her family, Patty Walsh, Robert and Marion Walsh and dear friend, Mary Jane Smith.
A special thank you to the McClure Miller Respite House for their kindness and support.
Eleanor's family will greet friends on Tuesday, May 23rd, 2017, from 5:00 to 7:00 P.M. at the Heald Funeral Home, 87 South Main Street, St. Albans.
A Mass of Christian Burial will be celebrated on Wednesday, May 24th, 2017, at 11:00 A.M. at Saint Mary's Catholic Church, 45 Fairfield Street, St. Albans. Interment will be at a later date in Holy Cross Cemetery.
As an alternative to flowers, her family suggests memorials to the Franklin County Animal Rescue, 30 Sunset Meadow, St. Albans, VT 05478 or McClure Miller Respite House, 3113 Roosevelt Highway, Colchester, VT 05446 or St. Jude Children's Research Hospital, P.O. Box 1000-Dept 142, Memphis, TN 38101-9908.
To send Eleanor's family a written expression of sympathy or share a memory, please go to her on-line guest book at www.healdfuneralhome.com.